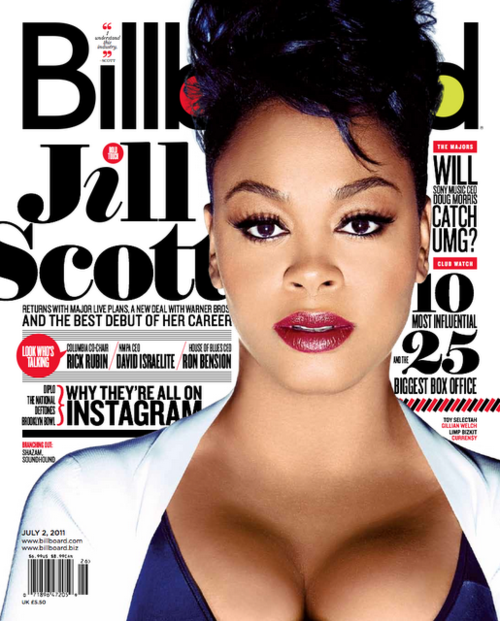 As Jill Scott is busy promoting her fourth studio album "The Light of the Sun," the R&B singer is currently featured on the cover of the July 2nd issue of Billboard Magazine.
Check out a few excerpts from the issue below:
On joining a new label:
"Free. That's the word I've been using."It's exciting, because it's on my own terms," Scott says. "I feel like my eyes are going to bulge out of my head. It's like starting all over again. Music shouldn't be a chore or feel like any kind of burden. It's free and alive. And that's where I am."

On her recording process:
All Scott wanted, she says, was to choose collaborators who could "embody the energy I was going for. Without any pretense, without knowing what I was going to say . . . there was no guidance except for the energy and spirit in the room. I'm a big Salvador Dali fan; he put his blood and everything else he had in his painting. That's how it is for me. There's no blood on this record, but there sure is some heart."

On coming full circle:
"I've missed myself," she says. "I'm sassy again, stronger. Now I understand this industry to a certain extent, and know how I work best. Having my son was one of the key factors in me leaving the old label. I need him to see me be as amazing as I can be so he feels fearless. I haven't arrived at amazing yet. I'm in the process. But I want him to see me grow. I want to get another 30 years out of this amazing life of being an artist."
"Light of the Sun" is in stores now … and for more on Jill Scott and her new album, pick up the latest issue of Billboard Magazine (on newsstands now).
Be the first to receive breaking news alerts and more stories like this by subscribing to our mailing list.