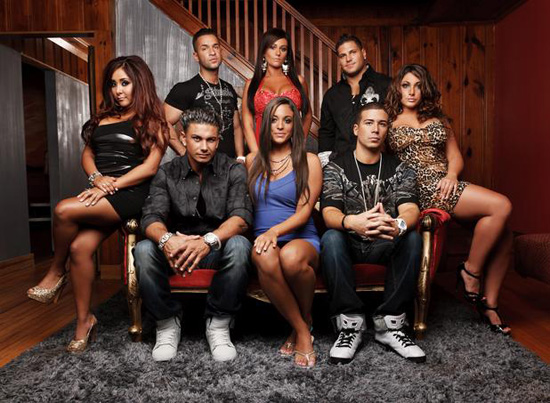 Enjoy the current cast of "Jersey Shore" while you can … because according to recent reports, sources connected with the show are saying that MTV will be getting rid of them once Season 5 wraps!
Network execs denied these rumors last week … but sources tell TMZ that MTV wants a fresh cast of characters after they wrap Season 5, which begins shooting in New Jersey next week.
Here's the thing. MTV gets the best of both worlds. They can keep the "Jersey Shore" machine going by growing a new crop of much cheaper stars. And, as for the break-outs in the original cast — including The Situation, Snooki, JWOWW and Pauly D … the network has already signed them to spinoffs.
However … other "sources" tell Radar Online that the whole re-cast story is simply baloney:
"It is garbage, I have idea where this came from," a source close to the show exclusively told RadarOnline.com. "The cast is very happy with their deals. It is conjuncture that they are getting canned because everyone has their own spin-offs, this is strictly a guess," the insider revealed. "MTV isn't saying anything, who ever got this is trying to find a story where this is no story."

"I've never ever heard it. I've never even heard a peep about this," the source said.

The show's stars are in the dark about the reported newcomers too! "The cast hasn't heard anything like this either. I saw the report this morning and was laughing about it," revealed the insider.
So are they sticking around or not? Looks like we'll just have to wait until MTV makes an official announcement of their own…
Be the first to receive breaking news alerts and more stories like this by subscribing to our mailing list.