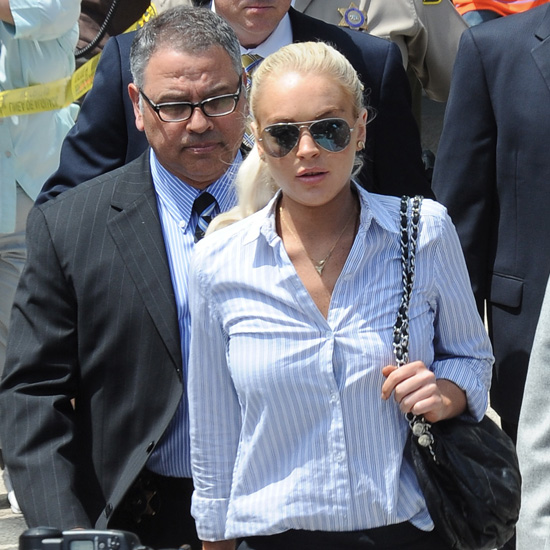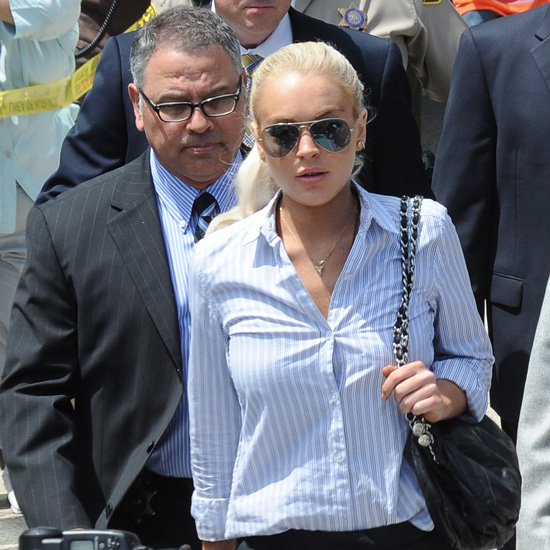 Fallen Hollywood starlet Lindsay Lohan was back in familiar surroundings yesterday …. the court-room!
Lohan arrived at the LAX Airport Courthouse early Thursday morning (around 9:45 am ET) for a 10 am hearing before Judge Stephanie Sautner to determine whether or not she violated her probation.
The judge over her 2007 DUI case, Judge Elden Fox, had previously stated that the actress was NOT to consume any alcohol while on probation. But Lindsay tested positive for alcohol last week … which is supposed to be a direct violation of her probation terms.
However … Judge Sautner noticed somewhat of a "loophole" in Judge Fox's ruling, which only required "controlled substances testing" (not alcohol testing) from January 3rd to February 25th 2011, and it was determined that Lindsay DID NOT violate her probation as previously assumed.
So thanks to Judge Sautner's careful eye … Lindsay Lohan dodged one hell of a bullet, and will NOT be going to prison.
Just before going into chambers, Sautner formally addressed the court, saying that the hearing was "meant to be a little private conference with the attorney," adding, "if you all thought there was going to be something exciting happening, I wouldn't count on it."
At the end of the hearing after she ruled that Lindsay was innocent, Judge Sautner told the 24-year-old "Mean Girls" star that she is not only forbidden from hosting any parties, but she is now restricted to just one friend at a time, in addition to family members, at her Venice, California home.
The judge also told Lindsay:
"What you are guilty of is of poor judgment to have parties on your roof. You are not to have parties, you can have one friend over at a time, plus family members or business associates. You can go on your roof, if probation calls you, you must answer. There is no drug or alcohol testing in effect."
Which basically means that she can get drunk (with no more than 1 friend, of course) all she wants … as long as she doesn't get behind the wheel of a car.
Now if what Judges Sautner said doesn't ring clear to Lindsay … we don't know what will!
Be the first to receive breaking news alerts and more stories like this by subscribing to our mailing list.