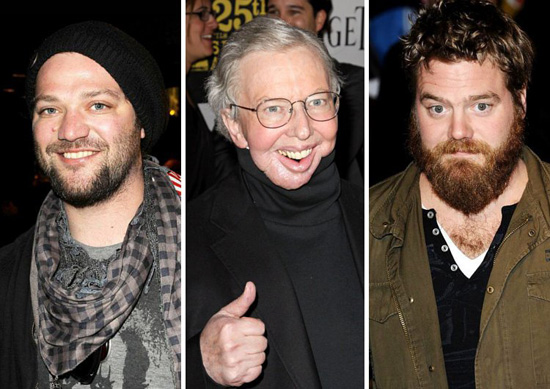 After the untimely death of "Jackass" star Ryan Dunn, Roger Ebert tweeted what some are calling insensitive comments about the star's death. On Monday, shortly after news broke of Dunn's tragic death, Ebert implied that Dunn's accident was a result of drunk driving. He tweeted:
"Friends don't let jackasses drink and drive."
Once he caught wind of Ebert's tweets, Dunn's friend and colleague Bam Margera blasted the film critic and retorted back via Twitter:
"I just lost my best friend, I have been crying hysterical for a full day. And piece of s*** Roger Ebert has the gall to put in his 2 cents about a jackass drunk driving… F*** you!"
After seeing the numerous comments about his tweet, 69-year-old Ebert wrote on his blog on Tuesday:
"I have no way of knowing if Ryan Dunn was drunk at the time of his death. What I knew before posting my tweet was that not long before his death, he posted a photo on Tumblr showing himself drinking with two friends. I meant exactly what I wrote. I wasn't calling Ryan Dunn a jackass. In Twitter shorthand, I was referring to his association with Jackass. I thought that was clear. I note that Bam Margera uses the word 'jackass' in the same way in his tweet."
Ebert also mentioned various reports of Dunn's history of speeding and even a possible past DUI. He continued:
"I don't know what happened in this case, and I was probably too quick to tweet. That was unseemly. I do know that nobody has any business driving on a public highway at 110 mph, as some estimated — or fast enough, anyway, to leave a highway and fly through 40 yards of trees before crashing. That is especially true if the driver has had three shots and three beers. Two people were killed. What if the car had crashed into another car?"
So … was that supposed to be an apology or something? Because it definitely doesn't sound like one. We give this "2 thumbs down" Mr. Ebert!
Be the first to receive breaking news alerts and more stories like this by subscribing to our mailing list.