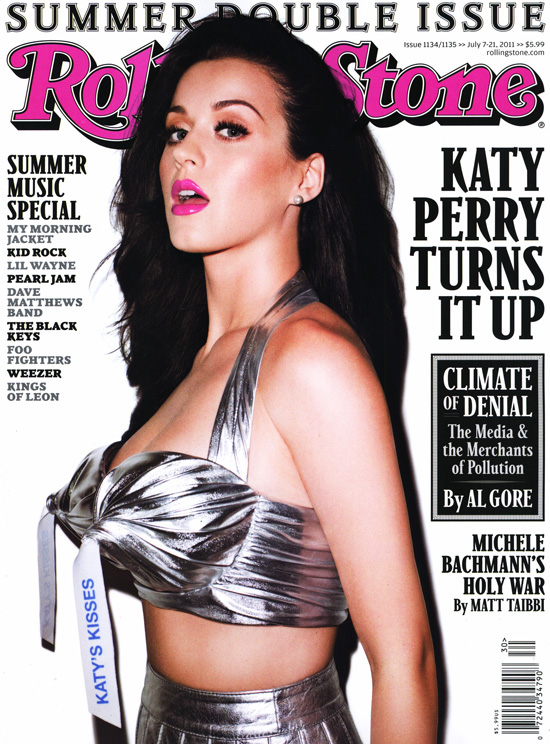 Even though her parents may think she is headed straight to hell … Katy Perry is still making big moves. The Pop star, dressed in a Hersey Kiss bra, is featured on the cover of the Summer Special issue of Rolling Stone Magazine, where she talks about being embarrassed by her big boobs as a teenager (she even taped them down to hide them) and more.
Check out a few excerpts from inside the issue below:
On her political awakening and wanting a "revolutionary change" in the world:
"It just feels like the thing running our country is a bank, money. I know it sounds like an intense viewpoint, but I'm only slowly but surely getting the wool taken off my eyes. When I was a kid, I asked questions about my faith. Now I'm asking questions about the world. I think we are largely in desperate need of revolutionary change in the way our mindset is. Our priority is fame, and people's wellness is way low. I saw this knowing full well that I'm a part of the problem. I'm playing the game, though I am trying to reroute. Anyway, not to get all politically divulging and introspective, but the fact that America doesn't have free health care drives me fucking absolutely crazy, and is so wrong."

On reacting to bad reviews from critics:
"Whenever people ask me about having bad reviews, I'm like, 'Have you seen the run I've had? Have you seen the numbers?' Numbers do not lie!"

On recognizing the limits of pop music:
"I'm not a dummy. I know 'California Gurls' isn't going to save the world. But I got a lot of heart from my upbringing and I put a lot of heart in my songs."

On being embarassed by her big boobs as a teenager:
"I started praying for [breasts] when I was, like, 11," she says. "And God answered that prayer above and beyond, by, like, 100 times, until I was like, 'Please, stop, God. I can't see my feet anymore. Please stop!' I was a lot more rectangular then. I didn't understand my body. Someone in sixth grade called me 'Over-the-shoulder boulder holder.' I didn't know I could use them. So, what I did was, I started taping them down. How long did I tape them down for? Probably until I was about 19. And, no, I don't have any psychological pain because of it."

On her obsession with "Ancient Aliens:"
"Oh my God," she says. "When it talks about the sky people , how everyone comes from the sky and how the Pyramids were used for star observations, it's too much for me. It all seems to connect the dots. It's blowing my mind."
For more on Katy Perry, pick up the Summer issue of Rolling Stone Magazine when it hits stores tomorrow (Fri. Jun 24)!
Be the first to receive breaking news alerts and more stories like this by subscribing to our mailing list.