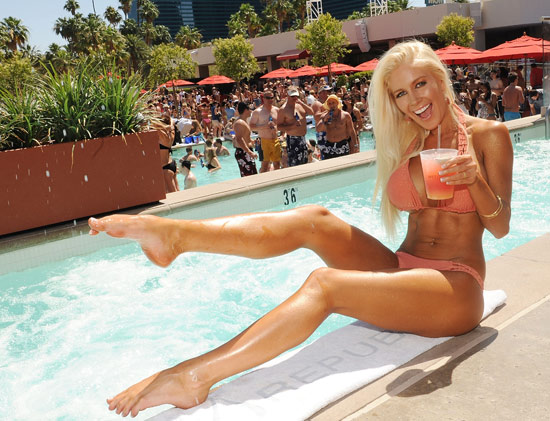 Heidi Montag claims that she is a fitness MONSTER!
The former reality star recently revealed to US Weekly that she works out a total 14 hours a day. (That's over half the day!)
"I've been working out from, like, 5 a.m. to 7 p.m. for two months now. I've been working out really hard because I had this pool party and I was like, I have to be in shape. And I was actually a lot overweight. It was the most I've ever been because I've kind of been in hiding eating pie with my husband and puppies, so I needed to get back in shape."
Montag's exercise routine consists of a lot of running and lifting weights.
"I've been running a lot, and I've been doing weights. When you work out, you boost your metabolism, so you have to [make sure you eat enough]."
Heidi blames her plastic surgery for being the reason she quit going to the gym in the first place.
"My breasts, because they're so big, really needed some time. So I'm just starting to work out again after my surgery. Sometimes I get shooting pains, but I hear that's normal."
14 hours a day??? Dayummmm…..we're not sure if we're believing this!
Be the first to receive breaking news alerts and more stories like this by subscribing to our mailing list.