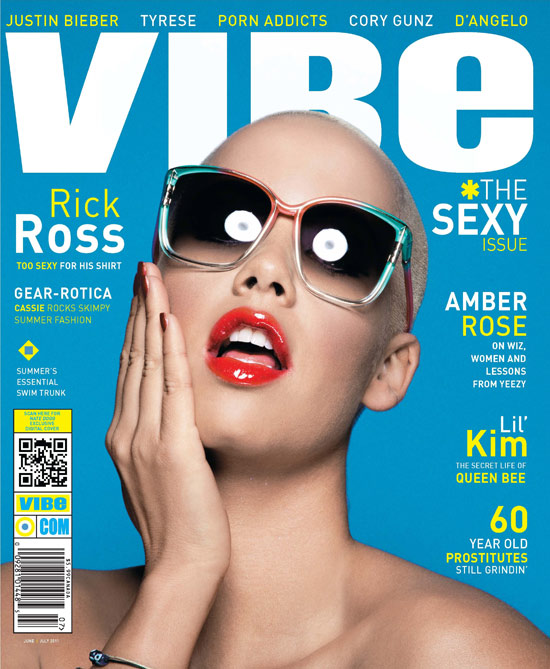 Amber Rose is mad as hell at Vibe…..
The model took to Twitter late Saturday night to lash out at the urban magazine for inaccurately printing a recent interview she did.
"Just read "my" interview in @VibeMagazine half of the story was untrue & ridiculous! F##K that Cover F##K @VibeMagazine yall wrote a bunch of negative bullshit that I never said or did. Yall don't give a f*ck that I have a Mom & Family thats gonna read that fake ass shit I gave yall a truthful interview & Yall f##ked me. I'm so sick of keeping my mouth shut I didn't ask for this life it was handed to me. I was nothing but nice to everyone I spoke to @ Vibe"
Here's the full interview with Vibe below:
AMBER ON LIFE POST-KANYE:
"What am I supposed to do? Crawl up in a corner and die 'cause I'm not with Kanye anymore? Am I supposed to go back to the strip club and not take these opportunities that I have?"

AMBER OF HER RELATIONSHIP WITH REGGIE BUSH:
"Me and Reggie [Bush] dated very briefly after Kanye…We were both each other's rebound and we both knew that and were cool with that."

AMBER ON WHY HER STORY IS RELATABLE:
"I don't have rich parents and it's a struggle. I can't just call my dad and be like, 'Dad, my money is a little messed up. Can you buy me a car or a house? It's not like that for me. I feel like more people will relate to my story than the Kardashians or the Hiltons."

AMBER ON BEING ICONIC:
"Kanye would always tell be how beautiful I was and that I was going to be iconic. He always said that, 'Baby, you are iconic. You don't understand what you have. I didn't. I didn't understand it."
Damn….that's gotta hurt
Be the first to receive breaking news alerts and more stories like this by subscribing to our mailing list.