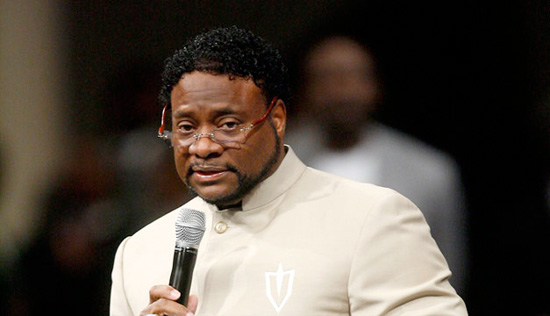 Christmas came early for Bishop Eddie Long and the four men who previously accused the New Birth preacher of sexually coercing them them.
Long reached a settlement and paid off the young men in an effort to avoid fighting the case in court, a move that former DeKalb County Prosecutor J. Tom Morgan says pretty much admits guilt on Long's part.
"You can interpret that any way you want, but usually people do not settle cases unless there is some reason to do so," Morgan told CBS Atlanta. "They had to reach a settlement if they did not want any statement by the Bishop on record."
Former New Birth members Spencer LeGrande, Anthony Flagg, Maurice Robinson and Jamal Parris filed civil lawsuits against Long, a 58-year-old married father of four and the pastor of one of the biggest churches in the Southeast, last September. Long adamantly denied the accusations, and even told his church congregation that he planned on fighting them.
But now, nearly a year later, "the case is resolved," according to a statement sent by attorneys from both sides. Terms of the deal have not been disclosed, and probably never will be due to the confidentiality agreement buried in the settlement's terms.
Late Thursday night, a spokesman for New Birth issued a statement which read:
"As is usually the case when civil lawsuits resolve out of court, we cannot discuss any details regarding the resolution or the resolution process, as they are confidential. This resolution is the most reasonable road for everyone to travel."
While the details from the deal will not be released, Morgan says he believes that the four men were probably paid at least $1 million dollars each, or something close to that.
"Nobody knows what the numbers are. I would be sure it's in the millions," said Morgan, who based his guesstimate on what a Catholic church paid victims in a similar case that he prosecuted.
We're sure both sides are happy now. Bishop Eddie Long-stroke can move on with his life, and his victims are millionaires now!
Be the first to receive breaking news alerts and more stories like this by subscribing to our mailing list.