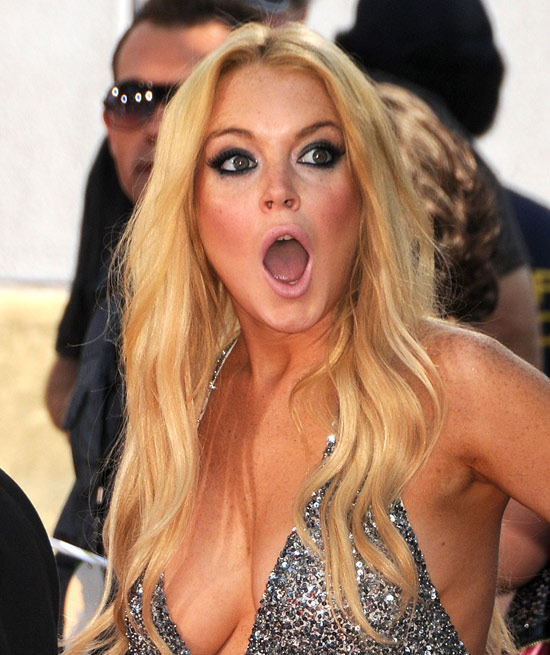 Despite her legal troubles supposedly seeming over, RadarOnline may have uncovered another possible mess for embattled actress Lindsay Lohan.
According to the site, Lilo may have violated her court ordered probation by downing an alchoholic beverage at  Paul & Andre Hollywood nightclub and someone caught it all on camera! That is until someone in Lohan's entourage reportedly grabbed the Nikon point-and-shoot camera from the hands of the fan and dumped it into a bucket of ice used to chill booze bottles.
"We didn't press charges because we thought it was funny at first," said an eyewitness who asked not to be identified. He and three friends, including the owner of the camera, sat for an hour at a table next to Lohan's. "We all were drunk. But then we figured out when we got home that the camera was broken because water seeped in. The memory card, though, was still good."
In a photo obtained by RadarOnline, a  24 year-old Lohan can be seen sitting on the back of the couch while her friends are partying.  However according to the source, Lohan was getting just as wild as everyone else.
"Lindsay appeared to be 'belligerently drunk,'" the source said. "She and her people were doing shots of something all night. She looked like she was falling all over the place. She was being stupid. When she grabbed my friend's wrist, another woman who was with Lindsay grabbed the camera. She kept saying 'I need that camera' over and over again. So the woman got it and sunk it into the ice bucket."
This could spell potential disaster for Lohan seeing as another probation violation could land the star of "Mean Girls" in jail for months!
Be the first to receive breaking news alerts and more stories like this by subscribing to our mailing list.