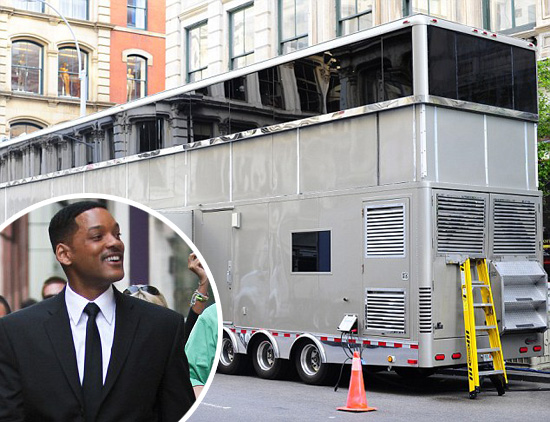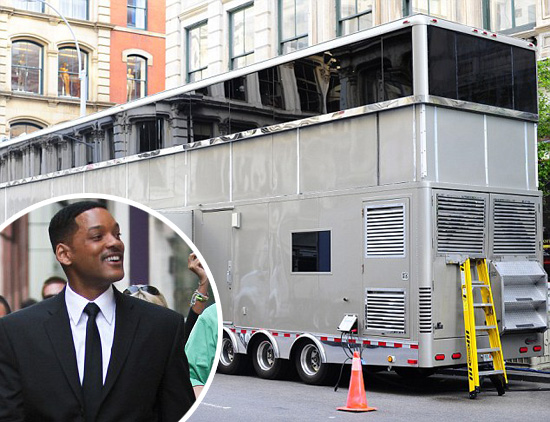 Will Smith is getting on his new Soho, NYC neighbors' last nerves!
According to recent reports, Smith is currently filming "Men in Black III" in the city and has parked his $2 million mega trailer in the trendy Manhattan neighborhood, along with another 55-foot long trailer he uses as a gym!
The specially designed $9,000 a week trailer, nicknamed "The Heat," is 1,150 square feet, which is larger than most 2-bedroom, 2-bathroom New York apartments. The massive "mobile apartment" includes a lounge with a bar, a movie room with a 100-inch screen, marble floors throughout and offices for his assistants and writing staff, as well as a large master bedroom and an all-granite bathroom.
It measures about 53 feet long, has 22 wheels and weighs in at around 30 tons. And get this: with the push of a button, the mobile unit can double its height in less than 30 seconds!
And not only that, but in addition to his mobile apartment, the actor is also renting a 5-bedroom, 6 and a half bathroom apartment located in the very same neighborhood for around $25,000 per month.
Hey, they don't call him Big Willy for nothing!
Be the first to receive breaking news alerts and more stories like this by subscribing to our mailing list.