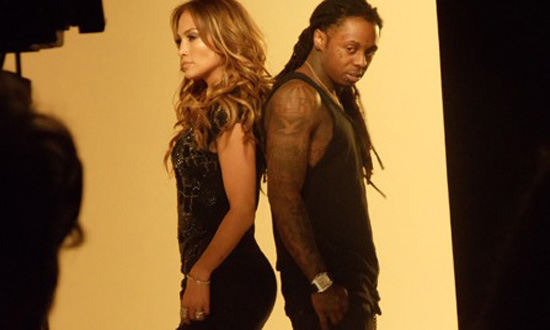 Lil Wayne has finally made his way into Jennifer Lopez' "I'm Into You" music video. The rapper, who appears on the track, wasn't featured in the original video (released last week) due to scheduling/legal conflicts (Weezy couldn't actually go to Mexico to shoot the video because he's on probation). But now a second version has been released and it shows clips of Wayne as he raps his verse.
Check it out below:
In a recent interview with MTV News, J.Lo explained how Lil Wayne is "so unique" and how he surprised her with how polite he was when she first got on the phone with him to talk about the track.
"He really is unique. He's so not what you would think or what you would think him to be," she said. "Like when I got on the phone with him to talk about the record, I thought he was going to be like, 'Hey, what's up, J.Lo?' and instead he was like, 'Yes, ma'am.'
"I was like, 'Are you going to be able to do this record? I need it done this week and do you want to do it?' and he was like, 'Of course I do. Yes, ma'am. I'll get it done this week, ma'am,' " she added, laughing. "I've always found him an interesting artist, and the things he says and the way he says them, and I just thought he wasn't the obvious choice for this record, but for me he was the only choice."
Lopez' new album Love? is in stores now!
Be the first to receive breaking news alerts and more stories like this by subscribing to our mailing list.