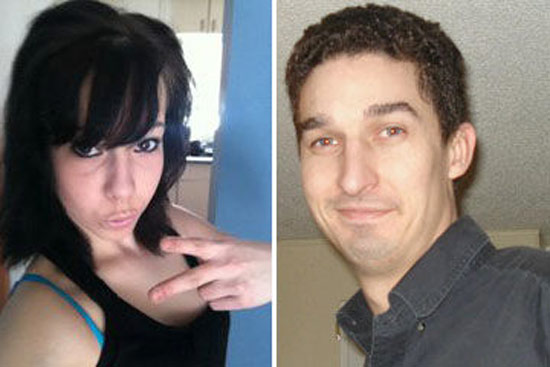 This whole thing with teachers having flings with students is getting waaaayyy out of control!
A Canada-wide warrant has been issued for a 32 year-old male teacher who is currently on the run with one of his female students who is half his age.
Read more below:
A former Manitoba teacher is believed to have run off with an former student half his age and is now wanted on a Canada-wide warrant for sexual exploitation.

RCMP believe Jonathan Clark, 32, of Ile des Chenes, Man., is travelling with Dezeraja Smoljanovich, 16, possibly to the Vancouver area. Clark, who may also be using Mike for his first name, is a "recent boyfriend" of Smoljanovich, police said.

Smoljanovich was last seen at her Grand Marais, Man., home on Thursday and reported missing by her guardians on the weekend.

"There is nothing to indicate that she is in particular danger, but because of her age, we need to locate her and make sure she's safe," said Const. Miles Hiebert, Manitoba RCMP spokesman.

Hiebert did not have details about exactly where the pair originally met, only that Clark once taught the teen.

Clark started working at Ste. Anne Collegiate in September, but he had recently been put on administrative leave.

"He hasn't been back here since spring break," said principal Yvan St. Vincent, who declined further comment and referred calls to the Seine River School Division.

Smoljanovich was reported missing by her guardians on Saturday. The next day, RCMP sent out a plea to the public asking for tips on the pair's whereabouts.

On Monday, police announced that investigators had secured a Canada-wide warrant for Clark's arrest on a charge of sexual exploitation.

Investigators chose to issue the public plea for tips, Hiebert said, because police feel it's important to find Smoljanovich – fast.

"It is unusual and normally we would hesitate to put out her name but we feel we need to find her as quickly as possible," he said.

Smoljanovich is 5-foot-6, 100 pounds, with brown hair and brown eyes with a birthmark on her forehead.

Clark is 5-foot-10 to 6-feet tall, has a thin build, weighs 150 pounds and has brown hair.

Police said it's possible the pair are driving a grey 2005 Honda Accord with Manitoba licence plate FJB 398.

Anyone with tips can call RCMP Selkirk at (204) 482-1222 or their local police department or Manitoba Crime Stoppers at 1-800-222-TIPS (8477).

tamara.king@sunmedia.ca
Just makes us sick…..
Be the first to receive breaking news alerts and more stories like this by subscribing to our mailing list.