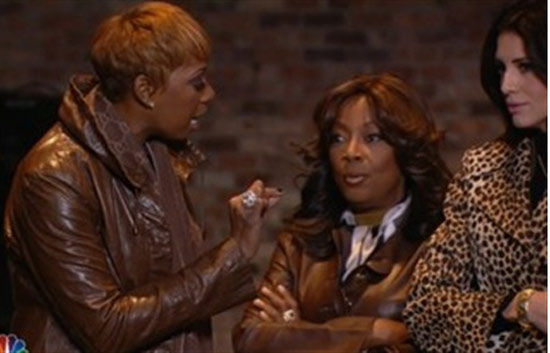 When "Celebrity Apprentice" star NeNe Leakes sat down with Ellen DeGeneres a while back,  the Atlanta native called fellow "Apprentice" contestant Star Jones "a disaster."
And after the tumultuous blow-up which took place during Sunday night's vicious spat between the contestants, Jones appeared on "The Ellen DeGeneres Show" – and took the opportunity to even the score.
"What were you thinking when NeNe was going off like that?" DeGeneres asks Jones in an episode airing Tuesday. "I was thinking my grandmother is going to watch this," Jones says. "I was thinking I need to keep calm."

She also couldn't resist comparing her costar to a feral animal. "When you're confronted in the wild with an un-caged animal you're supposed to retreat," Jones says. "You're not supposed to attack."

"No," says DeGeneres, "with a bear you're supposed to appear bigger. You're supposed to get larger."

"If you can tell me how to get bigger than that, I got money for you," says Star.
Ellen also asked if a possible reconciliation was in the stars for the two reality divas:
"It looks like at the end of it you started making up, although you didn't want to do it on camera," she says. "How do you all get along now?"
To which a clearly strong willed Jones replied:
"I don't know that girl and I don't hang with people like that."
Pretty safe to say assume these two won't be becoming BFF's anytime soon.
[PEOPLE]
Be the first to receive breaking news alerts and more stories like this by subscribing to our mailing list.