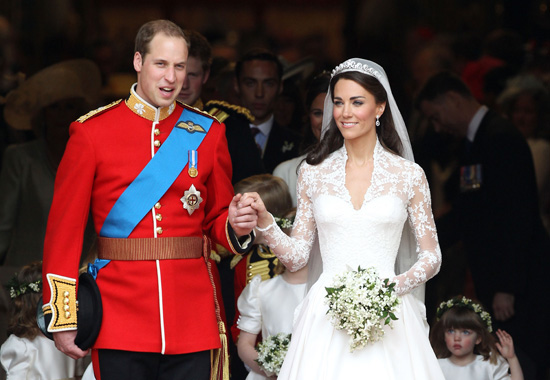 The media frenzy surrounding the "Royal Wedding" can finally end, because Prince William and Catherine (Kate) Middleton are now husband and wife.
The royal couple, who will now officially be known as "William and Catherine, Duke and Duchess of Cambridge," exchanged their vows in front of the Archbishop of Canterbury and hundreds of family members in London's Westminster Abbey this morning. As expected, Kate did not promise to "obey" her husband when she said her vows, but contrary to some rumors, the pair exchanged traditional sentiments, rather than writing their own.
According to a lipreading expert, William cracked a joke with Kate's father Michael Middleton when they arrived at the alter, saying: "We're supposed to have just a small family affair."
After the ceremony, the congregation sang "Love Divine All Love's Excelling" before the bride's brother James Middleton gave a reading from Romans 12, 1, 2 and 9-18. The choir then led the congregation in singing a re-worked version of "This Is The Day," which was specially composed for the occasion by John Rutter and was comprised of different psalms from the Bible.
The Right Reverend and Right Honorable Dr. Richard Chartres, Lord Bishop of London and Dean of Her Majesty's Chapels Royal then addressed the couple in a 10 minute speech, before the choir sang another hymn. Prayers were then said, followed by a rendition of "Jerusalem" before the ceremony ended with the National Anthem and signed the three registers.
Check out 20+ pics from the Royal Wedding below:
Congrats to the Duke and Duchess of Cambridge!
Be the first to receive breaking news alerts and more stories like this by subscribing to our mailing list.