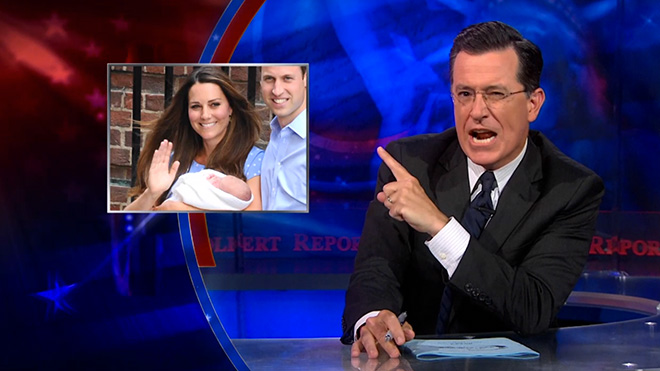 Tuesday night's episode of "The Colbert Report" unsurprisingly spoofed the overwhelming news coverage of the Royal baby's arrival.
Colbert began the episode with an intro that, as funny as it is, really makes us sad, because it's so true.
"The big story tonight, everybody, over 500 Al-Qaeda leaders have escaped from Abu Ghraib prison in Iraq, and with Iraq facing over 1,000 sectarian killings a month, experts fear the country once again in plunging into a bloody civil war," Colbert said on Tuesday. "For more, go someplace else — because there's a royal BAAAABY!"
The Comedy Central host then ran a segment titled "Sir Stephen Colbert Presents: Royal Afterbirth, Labour Party, Fetal Attraction, Birthing-hips hip hoorah, The Prince of Wails, Spotted Dick, It's a Boy! '013!" — which included clips of awful news segments that did insanely dumb things like use graphics to determine what Prince William and Kate Middleton's baby will look like when he grows up.
Of course, Colbert has his own theory about what the baby will look like — Golem from the "Lord of the Rings."
Less than 24-hours after giving birth, William and Kate presented baby George Alexander Louis to the world and as many have noted, the Duchess looked flawless.
This, of course, was not at all lost on Colbert, who joked, "This is the new standard for what you must look like 24 hours after giving birth," he said. "So step your game up, ladies!"
WATCH HERE:
Be the first to receive breaking news alerts and more stories like this by subscribing to our mailing list.