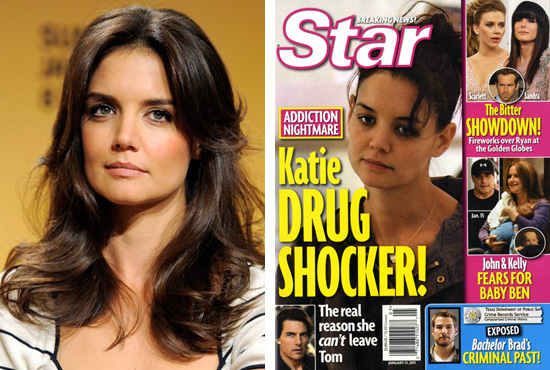 Katie Holmes one … Star Magazine zero!
Mrs. Tom Cruise has settled her lawsuit with America Media Inc. (publishers of Star Magazine) after the tabloid published a story that insinuated the actress was a drug addict. The corporation has issued an apologetic statement, which said that they "did not intend to suggest that Ms. Holmes was a drug addict or was undergoing treatment for drug addiction."
According to the Hollywood Reporter:
Though the monetary terms of the settlement are confidential, American Media said it is making "a substantial donation" on Holmes' behalf to Dizzy Feet Foundation, a non-profit charity that helps underprivileged youngsters realize their dreams of becoming professional dancers and to support, improve and increase access to dance education in the United States.
In a statement Katie said, "I'm pleased that this lawsuit could be resolved amicably and accept American Media's apology. With this dispute out of the way, I look forward to once again focusing my attention on my family and career."
Be the first to receive breaking news alerts and more stories like this by subscribing to our mailing list.