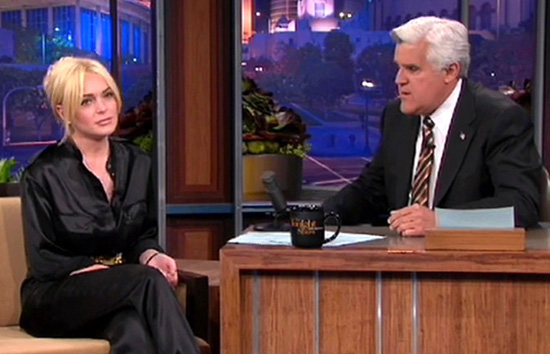 While speaking to Jay Leno Monday in a surprise Tonight Show appearance that will air Tuesday night, embattled actress Lindsay Lohan, was a studio audience favorite upon her arrival, and even received a standing ovation.
During her visit Lilo spoke on her 120 day sentence in connection with a probation violation for taking a necklace from a Venice Beach jeweler.
"At what point did you realize, 'Oh my God, I could lose this, this could slip away from me?'" Leno asked Lohan, to which she responded:
"I think that when, you know, being young and being in the position I was in, you don't really take the time to appreciate what you have and it's all kind of a whirlwind, and people make decisions for you," Lohan said. "But I'm not a kid anymore — I'm 24, I've made a lot of mistakes and I recognize that. I'm in the clear now, and as long as I stay focused, I can achieve what I want to achieve."
Check out video of Lindsay's visit below:
Be the first to receive breaking news alerts and more stories like this by subscribing to our mailing list.