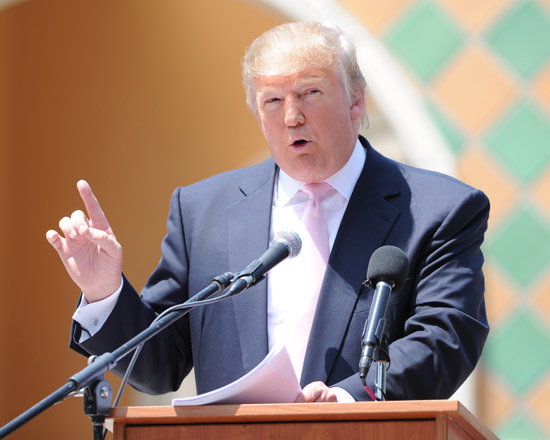 For someone planning on running for president of the United States … "alleged" billionaire Donald Trump is quite the fibber.
According to new reports, the Donald may have lied about how rich he is.
Peep the details below:
Notorious for his lack of modesty, Donald Trump has long flaunted his wealth and touted his net worth as a multibillionaire.

During his Comedy Central roast, which aired last month, the real estate developer and possible 2012 presidential candidate joked, "What's the difference between Donald Trump's hair and a wet raccoon? A wet raccoon doesn't have seven fucking billion dollars in the bank."

Now that he's considering a campaign on the Republican ticket, he's wielding his bravado as a political cudgel. He recently mocked multimillionaire Mitt Romney's reputation as a successful businessman by declaring himself "many, many, many times Mitt Romney."

Yet Trump has often been accused of exaggerating his wealth, even adding a few zeroes to the actual amount, which may undermine his credibility as a candidate with business credentials.

Despite Trump's own claims that he's worth around $7 billion, last September the most recent Forbes 400 rankings — which many consider to have overestimated the real estate developer's wealth in the past — estimated his net worth at $2.4 billion, putting him in a six-way tie for 153rd-richest person in America.

And a deposition in a defamation lawsuit filed by Trump provides numerous examples of him stretching the truth about his success in real estate. Former New York Times editor and reporter (and current Huffington Post national editor) Timothy L. O'Brien wrote in his 2005 book, "TrumpNation: The Art of Being the Donald," that the developer was probably worth $150 to $250 million, rather than the typical estimates of $2 to $3 billion. Trump sued O'Brien for libel, claiming that the book's lower figure killed some potential deals and damaged his reputation.

The case was dismissed, but Trump filed an appeal and a decision is pending. Trump's deposition, taken on Dec. 19-20, 2007, was obtained by The Huffington Post and CNN.

In 2005, Trump claimed that he was worth $3.5 billion, but a financial analysis by North Fork Bank estimated his worth at just $1.2 billion. The previous year, when he was claiming a worth in excess of $3 billion, Deutsche Bank estimated his worth much lower, at $788 million.

Asked in the deposition about his statements in 2007 that his net worth was $8 billion, Trump conceded: "I don't know. I don't think so. Well, maybe I'm adding 4 or 5 billion dollars worth, 3 billion, for the value of a brand. But I don't know."

Such comments prompted CNN contributor Jeffrey Toobin to tell "In the Arena" host Eliot Spitzer on Thursday night that the deposition could be used against Trump by his GOP opponents: "They could beat him over the head with this," Toobin said.

Among the deposition's most glaring examples of his fondness for exaggeration, Trump was asked why he claimed in several media accounts that he had a 50 percent interest in the massive Riverside South project on Manhattan's Upper West Side when he actually had a much smaller interest. "I own 30 percent," Trump replied. "But because of the fact I put no money up, that 30 percent is equated to 50 percent."

At another point, he is quizzed about his claim to CNN's Larry King that he earned over $1 milliion from a speech he gave to the Learning Annex. Trump admits that he was actually paid only $400,000 in cash, proffering the novel argument that adding in the annex's promotional expenses puts his payment in the $1 million-plus range.

In November 2007, Trump wrote a letter to the editor of the Wall Street Journal to complain about a story on his net worth, explaining that a development in Hawaii was a huge success. "My tower in Waikiki was 100 percent sold out with 729 million in sales, 5 hours, a record," he wrote. Yet he admitted in the deposition that he doesn't actually own the building — he just has a licensing agreement with the real owners.
Kind of makes you wonder if he's even capable of running our great country doesn't it?
Be the first to receive breaking news alerts and more stories like this by subscribing to our mailing list.