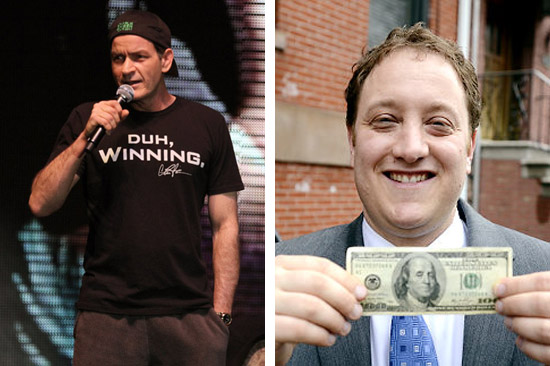 Despite his grandeur claims of  always "winning," Charlie Sheen is actually losing more than most these days. He lost his show, he lost his kids, he lost his mind, and now he's losing the money that's even in his own pockets.
According to the NY Daily News:
A heckler who shamed shameless Charlie Sheen into giving him a refund during an Atlantic City show has been unmasked as a mild-mannered insurance manager from New Jersey.

Zach Edelman berated Sheen so brutally at the Trump Taj Mahal Saturday night that the Hollywood wildman called him to the stage and handed over a crisp $100 bill.

"I slayed the warlock," a proud Edelman, 36, proclaimed to the Daily News.

The hatchetman from Hoboken never planned to go to the widely panned "Violent Torpedo of Truth" show.

But when Edelman wound up in Atlantic City for a buddy's bachelor party and started taking a beating at the Texas Hold'em tables, he figured he would save money by seeing Sheen.

"I decided to go see the show and spend $122 rather than risk losing more," Edelman said.

He and a pal arrived promptly for the 8 p.m. show. Sheen didn't.

Thirty minutes passed, and there was no sign of the erratic actor.

A "pissed off" Edelman stomped to the box office and demanded a refund, but got denied.

Soon after he returned to his seat about 20 rows back, Sheen appeared and started rambling incoherently.

"It was a train wreck," Edelman said. "There wasn't any humor."

Edelman let his feelings be known. Loudly.

Whenever Sheen shouted his trademark phrase "Winning!" Edelman countered with "Losing!"

After 10 minutes of abuse, Sheen had enough.

He beckoned Edelman to the stage, holding a $100 bill. The crowd booed as Edelman walked up, clapping.

"It's my money to spend, but whatever," Sheen grunted. "There's your f—— refund. Now you can get the f— out of here."

Edelman grabbed the bill and was escorted out by security. He examined the C-note outside to make sure the star hadn't tampered with it.

"It was, in fact, a crisp $100 bill and I don't believe it had been used for any other recreational purposes," Edelman said.

Despite Sheen's pathetic performance, Edelman insisted he does not harbor ill will toward the unemployed actor.

"He can call me anytime, and I'll give him pointers for his next show," quipped Edelman, whose favorite Sheen films include "Wall Street" and "Platoon."
Ouch!
Be the first to receive breaking news alerts and more stories like this by subscribing to our mailing list.