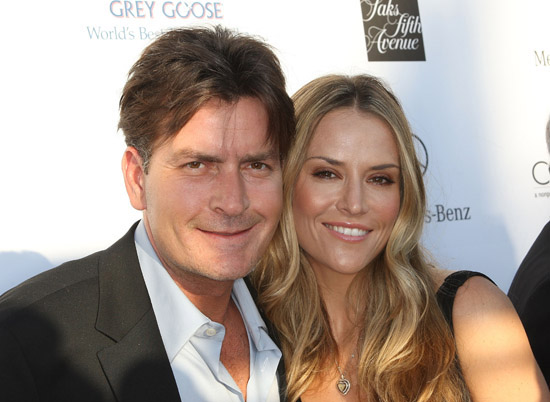 Brooke Mueller is reportedly back in rehab, and Charlie Sheen tried seizing her absence as an opportunity to regain custody of their 2-year-old twin boys, Max and Bob, but ultimately lost.
Foxwoods Resort Casino hosted Charlie's "Torpedo of Truth" show Sunday night at the MGM Grand Theater, and the 45-year-old actor spent a portion of his stage time bashing his estranged wife.
"Speaking of crack addicts, have you heard about this ex-wife of mine?" Charlie began in his opening monologue Sunday night before bashing Brooke for her most recent battle with addiction. "How do we feel about that loser?"
"This troll [Brooke] sends child services to my house to steal my children in the middle of the night," Charlie continued. "I told my kids, 'Don't say goodbye, say see ya later.' I'm the best f***ing father they can ever hope for."
The crowd sympathized with the charismatic warlock, hanging on his every word as they booed Brooke.
Charlie then proceeded to document their custody battle. "She convinces a f***ing judge while she's still in rehab coming off of crack that she's the better parent," he said, adding, "Only in L.A."
According to Charlie, Brooke's drug addiction was a problem throughout their marriage. "Brooke was observed on video surveillance selling watches I gave her during our marriage to buy f***ing crack," he said.
The actress reportedly refused a drug test on Friday, which she is required to comply with under her custody agreement with Charlie. She then entered rehab after a week of "binging," TMZ reports.
Brooke's latest decision to re-enter rehab was allegedly a "precautionary" measure, just in case Charlie's lawyers brought her recent relapse up in court. Sheen maintained that he submits to random drug tests and is clean.
"So she's MIA. The kids are with her less-than-stable mom, so guess where I'm going tonight after the show? I'm going to L.A. to get my f***ing kids back," he said last night to the roar of the crowd.
This sounded better on stage than in court, because yesterday, the judge ruled that Brooke would retain primary custody.
Sorry Charlie, but once again … you're "Losing." Better luck next time. 🙂
Be the first to receive breaking news alerts and more stories like this by subscribing to our mailing list.