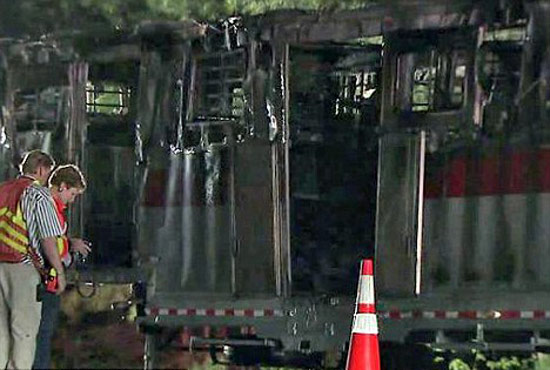 When flicking a cigarette goes horribly wrong and causes major damage ….. And when we say major, we mean MAJOR!
A motorist accidentally killed six racehorses after throwing a cigarette butt out of their window on the highway. (WTF???)
Read more about this tragic story below:
Six racehorses burned to death after a driver flicked a cigarette into their trailer as they were being driven to their first start of the season.

The young thoroughbreds desperately tried to escape but were trapped in their box when the hay around them caught on fire.

As smoke started billowing from the New York bound-trailer its drivers pulled over and tried to put out the fire but they unable to save the animals.

One of the drivers sustained burns while trying to haul them out.

Police said that the cause of the blaze was a passing motorist who flicked his still-lit cigarette out of the window and into the horse box.

One of the horses is said to have belonged to Barry Schwartz, the childhood friend of Calvin Klein who co-founded his fashion empire.

Other equines belonged to well-known trainers like Rudy Rodriguez and Mike Hushion.

The Loraine Course Transport tractor-trailer had started out in Florida and was on its way to the famous Belmont Park racetrack in Long Island, New York, when disaster struck.

North Carolina Highway Patrol Trooper K.B. Heath said the drivers of a tractor-trailer pulled the vehicle over after discovering smoke coming from it on Friday evening on I-95 about three miles south of Rocky Mount.

They also saw the horses in a state of distress on a TV screen on the driver's dashboard that is linked up to a camera in their box.

Trooper Heath said straw and hay inside the trailer ignited and the drivers were unable to get the horses out.

He added that so far investigators have no leads as to the identity of the driver who flicked the cigarette.

Mr Schwartz is a former president of the New York Racing Association and has trained thoroughbreds at his stables in Westchester, New York, for more than 30 years.

Such is his commitment to the sport that in 2001 he was given that year's award for The Person Who Did Most For Racing by the New York Turf Writer's Association.

He has also suffered tragedy before and Three Ring, the best horse he ever owned, died in a freak accident at Belmont Park in 1999.

'It was the worst fatality I have ever seen,' he said at the time.

''I have lost horses before. Anyone in the business loses horses, but I was right there for this. We were standing right next to her.'

Mr Schwartz, a former grocer who grew up in a one-bedroom apartment in The Bronx in New York, co-founded Calvin Klein with a $10,000 loan in 1968.

It is now a multi-million dollar fashion empire.
This is just a crying shame….kinda reminds us of some Final Destination type ish.
Be the first to receive breaking news alerts and more stories like this by subscribing to our mailing list.