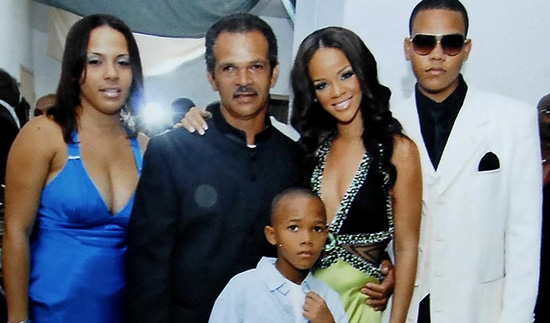 Who knew Rihanna's papa was a rolling stone?
We already know about Rihanna's younger brothers Rorrey and Rajad. But it turns out … the R&B singer has been keeping quiet about having 3 older siblings — 2 sisters and 1 brother by her dad — for years. In fact, Rihanna's oldest sister, who is 32 years old, has two daughters — a 14-year-old and an 11-year-old — which means Rihanna is an auntie!
Read more (and check out the pics) below:
Rihanna has a secret backup band — of siblings!

For years, the hit-making songbird has been quietly keeping touch with at least three sisters and brothers, from various flings by her playboy dad, according to The Sun of London.

The British tab published pictures of two half-sisters of Rihanna and identified a half-brother — all of whom had never been in the spotlight before.

Half-sister Kandy is a 32-year-old pharmacist's assistant in their native Barbados.

Samantha, 30, has a master's degree and works as a regional government consultant in the Caribbean, while Jamie, 27, is a graphic artist.

All three kids are from different moms, whom dad Ronald Fenty hooked up with before marrying Rihanna's mom, Monica.

Kandy etches out a meager living for her two kids.

The half-sister said she and Rihanna struggle to keep in close contact because of the singer's globetrotting schedule.

But Kandy couldn't be clearer: She has no desire to get any of Rihanna's considerable Do Re Mi.

"She's very busy jetting off all over the world, and I have to work long hours, so I suppose there hasn't been much opportunity to talk, really," Kandy said.

"But I'm very proud of what she's achieved. I'm not jealous of the fame or fortune. I live a simple life out in the country, but I'm very happy with what I have."

Each of the half-sisters has a good head on her shoulders.

Kandy kidded: "I don't think we have very much in common, but we do have the same large forehead."

Rihanna tries to see all three of her half-siblings in Barbados during visits back home, according to The Sun.

Kandy said her daughters, 14 and 11, have always enjoyed spending time with their aunt — even before Rihanna was an international pop sensation.

"My girls thought she was great fun, and now, of course, they love the fact their auntie is one of the most famous singers in the world," Kandy said.
Damn RiRi … you could have thrown them a shout-out at least once!
Be the first to receive breaking news alerts and more stories like this by subscribing to our mailing list.