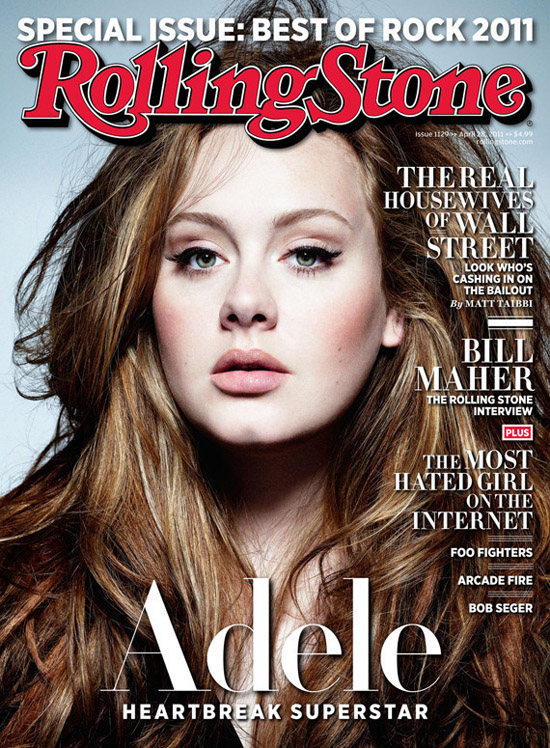 British soul singer Adele is a heartbreak superstar on the cover of the latest issue of Rolling Stone Magazine. Inside the issue, the UK crossover artist opens up about her music, answers questions regarding her weight and talks about how she still has stage fright.
Peep the excerpts below:
On her weight, how she hates going to the gym and selling sex to sell records:
"My life is full of drama and I won't have time to worry about something as petty as what I look like. I don't like going to the gym. I like eating fine foods and drinking nice wine. Even if I had a really good figure, I don't think I'd get my tits and ass out for no one. I love seeing Lady Gaga's boobs and bum. I love seeing Katy Perry's boobs and bum. Love it. But that's not what my music is about. I don't make music for eyes. I make music for ears."
On her terrible stage fright:
"I'm scared of audiences. I get shitty scared. One show in Amsterdam I was so nervous I escaped out the fire exit. I've thrown up a couple of times. Once in Brussels I projectile vomited on someone. I just gotta bear it. But I don't like touring. I have anxiety attacks a lot."
On her dad talking about her in the press:
"I never knew my dad. He has no f**kin' right to talk about me."
On meeting Beyonce and adopting her alter ego 'Sasha Carter:'
"I was about to meet Beyonce, and I had a full-blown anxiety attack. Then she popped in looking gorgeous, and said, 'You're amazing! When I listen to you I feel like I'm listening to God.' Can you believe she said that? Later, I went out on the balcony crying hysterically, and I said, 'What would Sasha Fierce do?' That's when Sasha Carter was born." (FYI: Sasha Carter is a composite of Beyonce's Sasha Fierce and singer June Carter)
For more on Adele, pick up the latest copy of Rolling Stone Magazine, on newsstands now!
[RS]
Be the first to receive breaking news alerts and more stories like this by subscribing to our mailing list.