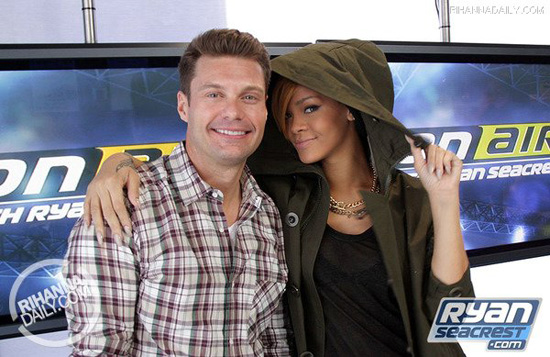 Known as the hardest working man in entertainment its no wonder Ryan Seacrest has the pulling power when it comes to landing interviews with huge stars.
His latest subject was pop princess and fashionista Rihanna. The "Only Girl in the World" singer stopped by Seacrest's KIIS FM radio show on Wednesday and the two covered a lot of topics, such as men being intimidated by her, Khloe & Lamar, collaborating with Britney Spears, and her suggestive "S&M" song.
Peep excerpts from the interview below:
On men being intimated by her:
Not to sound crazy, but yes. That's very difficult because it's a lot for them to handle. Especially being in the public eye, it could be difficult, it could be tricky. There's going to be someone who's not intimidated or not afraid to put me in my place.

On Khloe & Lamar:
Besides me being single, it makes it really difficult to watch Khloe and Lamar! They're so in love. I mean, they're so cute, it really is so great to see a little bit into their personal lives because people are so judgmental from the outside in; but really and truly, they have such a magical connection and it was really special to see that.[Ryan: They're 'gooey' passionate in love with each other] Which is why I hate them! I'm not watching it next week!

On her S&M remix with Britney Spears:
It was all within less than a week. We knew we wanted to put out a remix but we were just trying to figure out who so I asked my fans on Twitter who they would they most want me to collaborate with, without giving them any ideas. We already had Britney in our mind but it came back Britney was one of the most popular names, so it was like 'Okay, perfect. Then we had to see if Britney would even be into it and we had to wait on that, and after she got back to us it was an automatic, it was a go. She was like, 'I would love to do it,' she was very, very great, very professional. And she worked really hard at it, she went right to the studio and got it done and it came back, and now the world gets to hear it.

On her 'S&M' Song:
It's very provocative if it's taken in the literal terms, but when I first heard this record, I automatically knew that those words didn't mean…it was more about my love/hate relationship with the media and I automatically knew what the song meant to me. I wanted to make that apparent in the video, in the visual aspect, so people could really see the underlying message and get it. It's still…when you listen to it, you just hear the words and that's why people respond to it that way. The video got banned in a lot of countries even though I didn't think it was that raunchy. I thought it was fun and funny and quirky, but again, people just hear the words.
And check out the full interview below:
Be the first to receive breaking news alerts and more stories like this by subscribing to our mailing list.