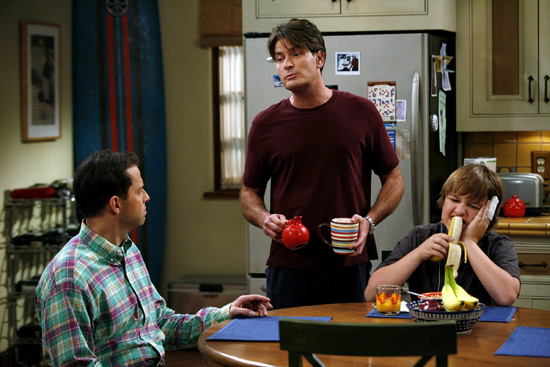 Itching to see America's favorite warlock return to "Two and a Half Men" this fall? Well, according to published reports you may just get your wish!
As unlikely as a reconciliation may seem after all the viscous insults Charlie Sheen has hurled against his former employer Warner Bros. and "Men" creator Chuck Lorre, Charlie claims he's been in talks to get his old gig back.
"There's been discussions, but I was asked not to divulge anything," he told Boston radio station WBZ-FM on Tuesday night. "Had they told me at the end of season 8 that that behavior wasn't going to be cool, I would have adjusted it."
Charlie also revealed he's not receiving any residual money from the syndication of the show for his back-end participation on the hit comedy series. "I'm supposed to [be getting paid], but that's — what's the term? — being withheld," Sheen said.
If Warner Bros. brought Sheen back on board it would be a "winning" situation for everyone. The studio would get back their most profitable show, and Sheen would get back his paycheck.
See, everybody wins!
Be the first to receive breaking news alerts and more stories like this by subscribing to our mailing list.