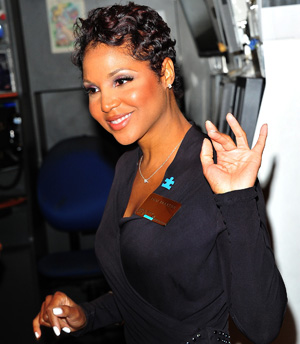 R&B alum Toni Braxton has opened up about her son's diagnosis with Autism.
The Breathe Again singer disclosed intimate details of how she felt when she found out that Diesel, 8, had the condition.
During the Lindt Gold Bunny Celebrity Auction in NYC which benefits Autism Speaks, she explained to OK! Magazine:
"Diesel's journey has been struggling. It's been rewarding to see how he's grown, but I remember when I first found out. I remember blaming myself; I thought it was my fault. I wish I knew what triggered it. Still, often, as a mom, I blame myself. I didn't take my vitamins every day … maybe it was the medications I was on before I got pregnant."
Braxton went on to explain further how having a child with special needs affected both her marriage to her husband Keri Lewis (now separated) and her eldest son, Denim aged 9:
"It was challenging when we first found out. No one tells you this part – but Suzanne from Autism Speaks told me 'Toni, the divorce rate is 80% when you have a special needs, autistic kid.' No one talks about that part because the parents blame themselves. Making decisions about therapy is going to cause you to bicker and fight a bit. It played a little bit of a role in mine. Not the complete role, but it was definitely a role.

"I remember my older son, though, his friend would say to him, 'what's wrong with your brother? He's weird.' Kids are honest. I remember my oldest son used to act a little different. He loved his brother, but there were moments when he was like 'oh yeah, my brother's different, my friends think my family's weird.' Once I talked to my son – you have to talk to the other siblings – once I spoke to my son and let him understand what was going on, he got it. Now he's protective of his brother."
You will be able to see further into Toni's family life on her reality show, "Braxton Family Values" which will premiere April 12th on WE TV.
Be the first to receive breaking news alerts and more stories like this by subscribing to our mailing list.