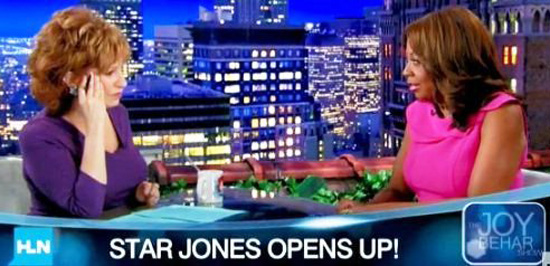 For the first time in 5 years since her tumultuous exit from "The View," Star Jones came face to face with Joy Behar on "The Joy Behar Show" Monday night (Apr 4). While there, Jones admitted to Behar that she was "miserable" during her final year on the ABC chat-fest.
Jones, 49, was on Behar's show to promote her new book "Satan's Sisters," and said that she misses the the daily banter about current events, but credited social media for giving her a forum for her voice to be heard now that she's off the panel.
"I miss the discussion," she said. "I miss the 'Hot Topic' arguing back and forth."
Behar asked Jones if she would ever return as a guest on "The View," to which Star responded:
"Right in the middle of Satan's Sisters? Someone will have to read the book so you know what to talk about," Jones said. "Of course I'd come. You invite me, I'll be there."

"I'm not in charge of the booking! Don't look at me!" Behar said, spurring Jones to joke Behar was hiding behind "plausible deniability."
Jones revealed that she left "dramatically," explaining her final year on The View "was really probably the most emotionally-destroying time of my life" as she went back and forth with ABC.
"I honestly was not sure that I could take it: Do you know, I actually lost an additional 20 pounds? It was really, really sickening!"

"The first eight years were great, [the last year was] miserable."
Still, Jones said in all, her experience was "fun … it was a lot of fun.
Watch the ladies chat it up below.
Be the first to receive breaking news alerts and more stories like this by subscribing to our mailing list.