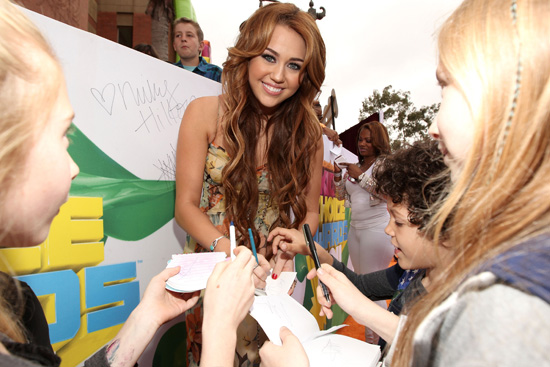 During an interview on the red carpet at the Kids Choice Awards in L.A. recently, Miley Cyrus cleared some hater-ish comments she recently made about 13-year-old YouTube sensation Rebecca Black.
See what she had to say below:
"I am a fan of Rebecca Black. I love Rebecca Black. I just got misquoted. I think she's great. I actually have this really embarrassing video that my sister has on her phone," she says, "and I'm just waiting till the day that she puts it on YouTube. It's me driving, singing Rebecca Black and my hands are not always on the wheel while I'm singing the song. Not so good."
It's good to see young starlets being supportive of each other, though we have a feeling Miley meant what she said the first time again … she just didn't mean to say it out loud.
Be the first to receive breaking news alerts and more stories like this by subscribing to our mailing list.