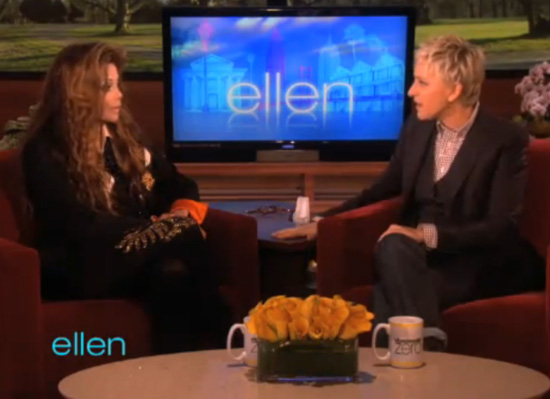 Ellen DeGeneres has a way with the stars when it comes to getting things out of them, and this time around with LaToya Jackson was no different.
The "Celebrity Apprentice" contestant appeared on the show on Wednesday (Mar 30) and started off discussing what happened when she learned of Michael's death, before leading into a discussion about her stint on Donald Trump's hit TV show and dealing with cast mate Star Jones.
"I almost crashed the car," La Toya said, explaining what she did when she found out her brother was dead. "I started crying and my head went to the steering wheel. I started begging people on the street to drive me because my legs got so weak. I couldn't believe it," she said. "My heart just fell to the ground."
Ellen managed to keep their conversation light by diverting Jackson's attention to her "Celebrity Apprentice" co-star, Star Jones and even managed to get sweet-hearted LaToya to call her mean. Here's an excerpt from the interview:
"[Celebrity Apprentice contestant] NeNe [Leakes] was here not too long ago and she doesn't care for Star [Jones] too much," Ellen told La Toya. "Are you having a hard time with Star as well?"

"I think everybody has a hard time with Star," La Toya said. "I really do."

"She's a tough one, right?" Ellen asked. "Is it tough or is it mean?"

"Okay, I don't want to say anything really bad," La Toya said. "Okay, just say something sort of bad," Ellen countered. "Okay, she's mean … because I always say, if I had lost that much weight I would have been so happy and pleased with myself," LaToya eventually admitted to Ellen. "It's something inside that's hurting her to react that way to everyone … just put a smile on your face sometimes!"
Watch LaToya's interview with Ellen below:
Be the first to receive breaking news alerts and more stories like this by subscribing to our mailing list.