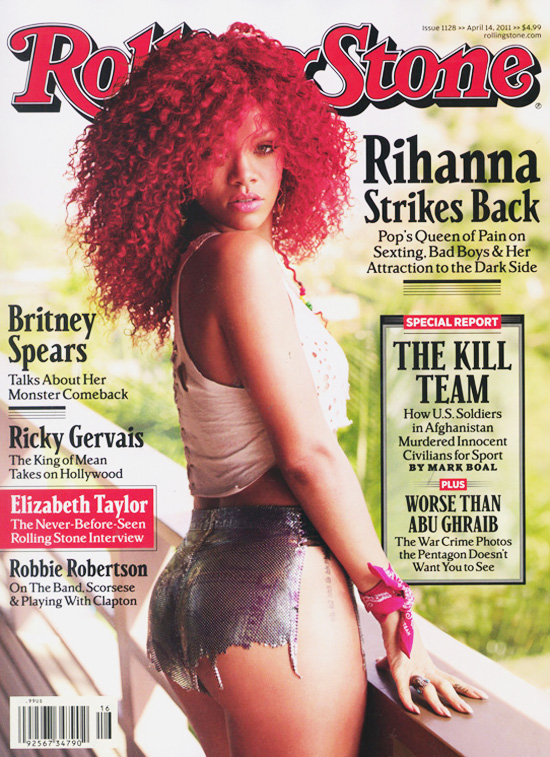 Rihanna is a very freaky girl!
Earlier this week we showed you her sexy cover for the latest issue of Rolling Stone Magazine … and now we have the excerpts from the interview where she talks about her sexual fantasies, how she likes a man to take charge in the bedroom and more. She also candidly speaks on her current relationship with Chris Brown, and why she recently lifted the restraining order against him.
Check out the excerpts below:
On lifting the Chris Brown restraining order:
"That's my decision. It doesn't mean we're gonna make up, or even talk again. It just means I didn't want to object to the judge. We don't have to talk ever again in my life. I just didn't want to make it more difficult for him professionally. What he did was a personal thing – it had nothing to do with his career. Saying he has to be a hundred feet away from me, he can't perform at awards shows – that definitely made it difficult for him."

On what she went through after the incident:
"I put my guard up so hard. I didn't want people to see me cry. I didn't want people to feel bad for me. It was a very vulnerable time in my life, and I refused to let that be the image. I wanted them to see me as, 'I'm fine, I'm tough.' I put that up until it felt real."

On letting a man take control in the bedroom:
"Being submissive in the bedroom is really fun. You get to be a little lady, to have somebody be macho and in charge of your shit. That's fun to me…I like to be spanked. Being tied up is fun. I like to keep it spontaneous. Sometimes whips and chains can be overly planned – you gotta stop, get the whip from the drawer downstairs. I'd rather have him use his hands."

On Sexting
When you're not with the person you want to be intimate with, a picture is the next best thing. Skype is safer, but a picture lasts a long time. When you're alone, and those horny moments come up, pictures can be very handy."
Your thoughts?
Be the first to receive breaking news alerts and more stories like this by subscribing to our mailing list.