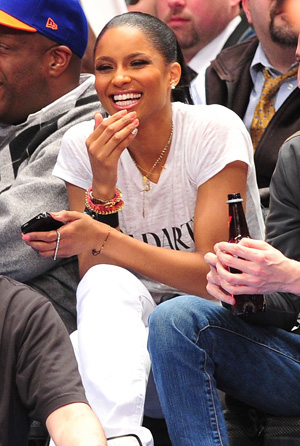 Ciara has had a rocky few months career wise, from poor album sales of her last studio effort Basic Instinct, to wanting to be released from her label of 6 years, Jive Records.
A few months ago the "1, 2 Step" singer made a controversial move and published a letter via her Facebook about wanting to be released from the label. Here's a snippet of what she wrote:
"It is true that I have asked and I pray that my label will release me. I have had some great times and success with my label but sometimes, like all great things, it's at that point where I feel we don't share the same views on who I am as an artist."
Fast forward to today and the R&B it-girl is focusing on big things for her future and building her own empire. In an interview with The West Australian, the "Goodies" singer dished:
"Right now, I am in the process of letting things fall how they are supposed to," she says. "It may sound crazy to you, but I have never really managed to take time for me and to enjoy my life and enjoy the benefits I have been blessed with," she says.

"I want to look back five years from now and be happy I have set up the proper building blocks for my business to run on, even if I don't want to perform. I am working hard on every aspect of my career, from who I am as a performer to making music, TV and films. From my perspective, my goal is to do more than just perform. To use the platform I have been given to turn it into something more, to do something different."
So what does Ciara see as her biggest accomplishment?
"My greatest achievement is being able to last for this long in the music industry," she says. "It is really hard and it's a journey. You need to keep reinventing yourself to just stay around. Of course, winning a Grammy was great for me as well. It is something I cherish and value, I am proud to say I have a Grammy."
Catch Ciara next month at Supafest in Australia where she is scheduled to perform alongside of a roster of artists including Snoop Dogg, Nelly, Keri Hilson, Timbaland, Busta Rhymes and more.
Be the first to receive breaking news alerts and more stories like this by subscribing to our mailing list.