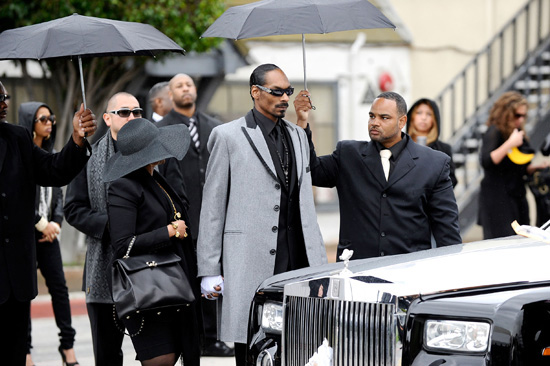 This past Saturday morning (Mar 26), thousands of family, friends and fans showed up to pay their respects to fallen rap legend Nate Dogg, who was laid to rest in his hometown of Long Beach, California.
Nate's longtime musical running buddies including Snoop Dogg, Dr. Dre, Game, DJ Quik, and others were also on hand to pay their respects to the late singer.
"1986, Poly High School, that's where we connected for the first time," an emotionally distraught Snoop reflected on his friend. "We didn't know each other, but the music connected us. We built a brotherhood, a friendship."
Nate first met Snoop, along with his best friend, rapper Warren G, at Poly High School where they would go on to form the rap trio 213.
Warren G spoke briefly about his fallen friend during the service.
"It hurts me so much to see this," Warren G said somberly while looking down at the casket. "We been through a whole lot and that was my dog. He stayed down with me from the bottom to the top. I didn't ever think I would have to sit at a funeral for one of my dogs. All I can say is that was my friend, me him and Snoop was 213 from the balls to the walls. The music industry lost an incredible artist."
Rod McGrew acted as Nate's manager throughout his music career and was with him up until his last days.
"He fought a hard fight," McGrew said. He also thanked Dr. Dre and Eminem, in addition to Snoop, Warren G and Xzibit, for assisting the family in getting through the past several days. "The last three years were unbelievable. He didn't give up. He just had a talk with God and gave up. Two hours before that he was fine."
McGrew said that with Nate's passing, the singer's three wishes will now be granted.
"He wanted to go to heaven and hang with his boys," McGrew said. "He loved Tupac. He recorded with him. He wanted to hang with Biggie. But the most important thing is that he can walk around heaven with his favorite artist of all time, Michael Jackson."
All Doggs go to heaven. Rest in peace Nate Dogg…
Be the first to receive breaking news alerts and more stories like this by subscribing to our mailing list.