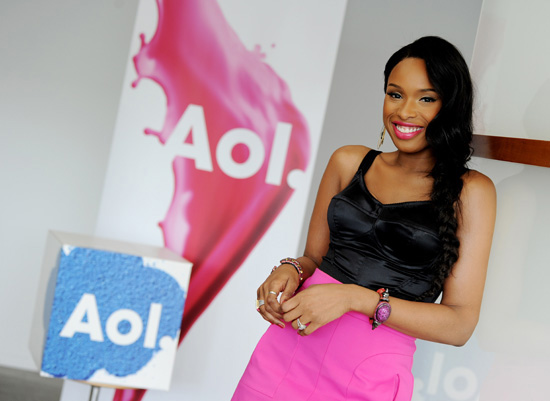 Jennifer Hudson's new slim figure has all the heads turning,  but the singer/actress claims her fiance is still getting used to her sexy new shape.
The singer stopped by 'The Tonight Show' to chat with Jay Leno last week, and revealed that her 80-pound weight loss was a huge change for her fiance David Otunga. Hudson said of her fiance's response to her new look:
"He's getting adjusted to it. He's not really into change that much."
Hudson admits she's definitely more into fashion and clothes now that she's proud of her new figure, but said Otunga doesn't always get her new style.
"He fusses at me like, 'Why do you have to have to get all dressed up to go out, and why can't you just go out like you used to?'" And I'm like, 'I'm a walking billboard now, honey!'"
Still getting adjusted? What's wrong with you "Punk?" Jennifer Hudson is a bad mama jama! We'll gladly take her off your hands if you don't like her new look.
Check out a few pics of the sexy R&B diva below posing and performing at AOL Music's "Sessions" at AOL Studios in New York City Saturday (Mar 26).
Be the first to receive breaking news alerts and more stories like this by subscribing to our mailing list.