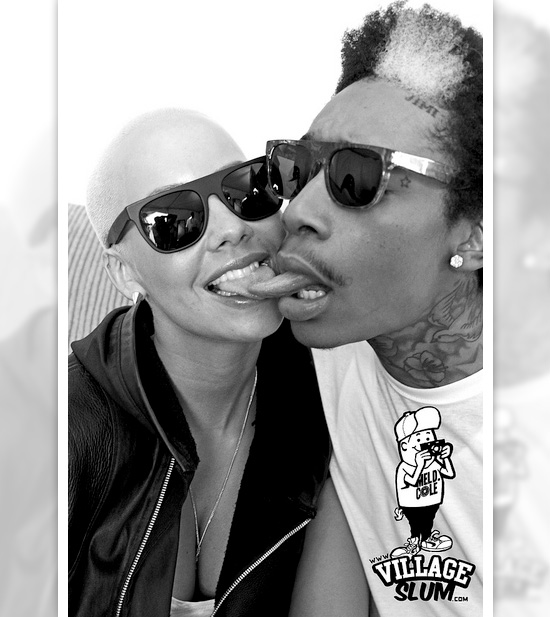 In many people's eyes, Amber Rose is only famous because of the many, many men she's been linked to.
Now the stripper-turned Kanye West armpiece-turned Wiz Khalifa concubine-turned radio personality is upset at the negative perception that has come with being linked to those various rappers and athletes.
This morning the professional groupie Internet sensation rolled out of bed and let her frustration out via Twitter.
Morning Twit Fam, didn't really wake up in a good mood today. I'm just so sick of being ridiculed. assuming things without knowing. I'm super nice to everyone I meet. I'm a very caring compassionate person. I don't deserve to be talked about so negatively. I really hate explaining myself that's why I stay so quiet but I will say this….. I was with my ex for 2 years and now I have a new Love. [Two People] that's it. If that makes me a whore then so be it. I have NEVER slept with Fabolous, Drake, Chris Brown, Amare, Lebron, Cassidy etc nor have I ever been a Prostitute.
Assuming she's not what the majority of people perceive her as, she's not completely innocent and comedian Lil Duval told her as much via his Twitter account.
No disrespect, but that's what comes [with] being around so many different men. In our mind if ur with him, u f**ked him. In this world, it's not about what you think you are, it's about what people SEE [you] as and it's up to you to make them see what you see. You'll see what I'm sayin' later on. not bashing you. Just understand, you are what's perceived in this industry.
They don't say perception is reality for no reason. It's a sad truth that Amber Rose has to understand.
Plus, when you become famous for being Kanye West's girlfriend, and then you date up and coming rapper Wiz Khalifa right after, what do you really expect people to think?
Be the first to receive breaking news alerts and more stories like this by subscribing to our mailing list.