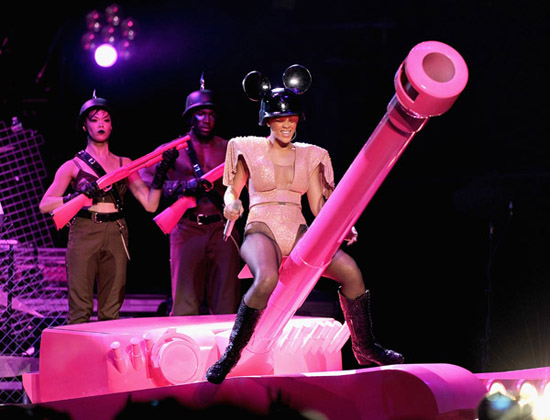 Here's a shocker. Due to struggling ticket sales and extremely low demand, vocally challenged screecher Rihanna, might be forced to axe a string of U.S. tour dates, reports suggest. Tour organizers are said to be worried over the low sales and may have no choice but to cancel.
Ironically, the "Rude Boy" singer experienced the same underwhelming ticket sales last year when she had to cancel dates on her "Last Girl on Earth" Tour due to low demand.
"It has been a big disappointment. The ticket sales in big US cities like Boston are so bad, they will barely cover basics like the lighting and other arena costs," a source told the New York Post. "Tour managers are begging local radio stations to do giveaways."
Just 3,700 tickets have allegedly been sold for one venue, when at least 15,000 will need to be shifted in order to break even.
Is anyone really even surprised? Who really wants to fork over $40 – $100 bucks just to hear Rihanna screech when you can get the same performance by stepping on the tail of a cat and you don't even have to spend a dime?
Hmph, keep your tickets sister! We're sticking with the feline.
What do you think?
Be the first to receive breaking news alerts and more stories like this by subscribing to our mailing list.