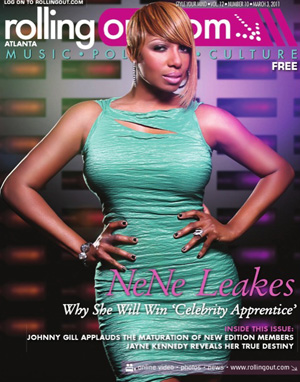 She curses, she threatens, and she even snatches up wigs, but according to 43-year old stripper turned reality star NeNe Leakes, she is NOT an angry woman.
"NeNe Leakes is fabulous, confident and she knows who the hell she is," the Bravo star tells the March 3 issue of Rolling Out. "NeNe Leakes is not an angry woman.

"Some days I'm angry, and everybody is. I just happen to be on television and the camera captures me when I'm angry," Leakes counters. "Just imagine doing a reality show. What would they capture about you? They'd capture you on your period, pissed off, angry with your man, happy, going shopping. But they're only going to put in the things that are most interesting. I'm not an angry black woman; I'm actually a cool ass black woman."
She's "clearly" not  an angry woman even though she managed to find a new foe in Star Jones while the two filmed "Celebrity Apprentice," although Leakes is not that quick to share too many details from their on-camera scuffle.
"I had an experience with Star. I had never met her before. I believe that any woman who gets around Star will find that Star's not cool," Leakes says cryptically. "And when you watch Celebrity Apprentice, you will see some sides of her that are just not cool."
No Nene, what's not cool is all you grown ass women over the age of 40 that continue to make a fool out of yourselves on reality TV just for a quick buck!
Get it together woman.
Be the first to receive breaking news alerts and more stories like this by subscribing to our mailing list.