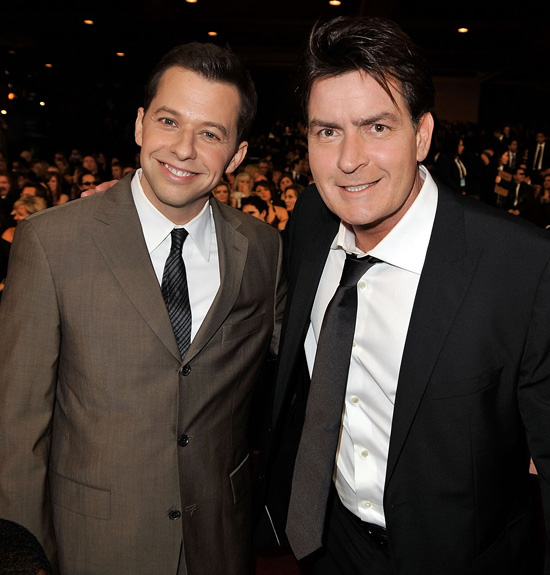 Charlie Sheen isn't really feeling how his "Two and a Half Men" co-star Jon Cryer is "riding on the fence" in regards to the big Charlie Sheen vs. CBS & "Two and a Half Men" war. So in response, he's offering some harsh words for Mr. Cryer.
Check 'em out below:
"Like I said: You're with me, or you're with the trolls," Sheen exclusively told E! News Tuesday "Obviously he's with the trolls."
But wait, there's more…
"Jon has not called me. He's a turncoat, a traitor, a troll. Clearly he's a troll," said Sheen. "He issued a statement. Is it gonna take me calling him a 'traitor, juvenile and scared' for him to get it?"
Sheen had much kinder words for other cast mates and crew members on the show, who he says are "not trolls" because they, unlike Cryer, have reached out and called him. He says Angus T. Jones (Jake the nephew), Conchata Ferrell (Berta the housekeeper), Melanie Lynskey (Rose the neighbor) and even the show's director Jamie Widdoes have all given him a ring.
Jon Cryer hasn't been completely silent though. He participated in a funny sketch on Ellen last week that made light of his current unemployment status, but did not directly address Charlie Sheen and the whole situation.
So what if Jon muscles up some energy, along some kind words to say, and decides to call up Charlie?
"What's there to say? I'll tell him 'You're a little late. Goodbye, troll,' " Sheen said. "When I'm starring in multimillion-dollar films and he's begging me for a supporting role I'll say, 'You left me out in the cold with all of your guilt and stupidity.'"
What's interesting is that a source close to Cryer said that the two actors have indeed communicated, and that Cryer DID reach out to Sheen … but out of respect, Cryer will not make any public statements.
Confused? We are too. But we're pretty used to that when it comes to anything related to Charlie Sheen.
Your thoughts?
Be the first to receive breaking news alerts and more stories like this by subscribing to our mailing list.