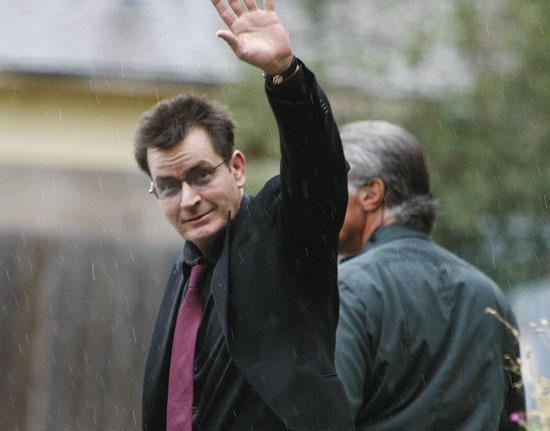 According to RadarOnline, "Two and a Half Men" star Charlie Sheen has basically said to hell with rehab and treated about two and a half women (his wife, his live-in porn star girlfriend and another woman) to a tropical vacation this past Wednesday (Feb 23rd).

Last weekend, the troubled actor's soon-to-be-ex wife Brooke Mueller moved back into Sheen's multi-million dollar love palace which also currently houses Charlie's porn star buddy Bree Olson and new girlfriend Natalie Kenly.
Sources allege that on Wednesday (Feb 23) Sheen and his trio of highly attractive "roommates" ditched the prying eyes of Los Angeles to go "vacation" on the sunny beaches of a private tropical island. Mueller confirmed these reports when she tweeted out the following:
"Going to a tropical wonder for a little while to relax with friends 🙂 minimal tweets so hold tight! Be home soon babies!"
All of this is occuring while Sheen is supposed to be at home undergoing rehab as his hit CBS show hangs in utter limbo.
"Charlie is back to his old self — and that's not a good thing," a source close to the situation told RadarOnline.com exclusively. "So much for rehab at home. He took off with the girls on Wednesday."
1 man, 3 beautiful ladies, skimpy bikinis, and a private island. Yep…..pretty sure we would've said screw rehab and did the same thing. Way to go Charlie!
Your thoughts?
Be the first to receive breaking news alerts and more stories like this by subscribing to our mailing list.