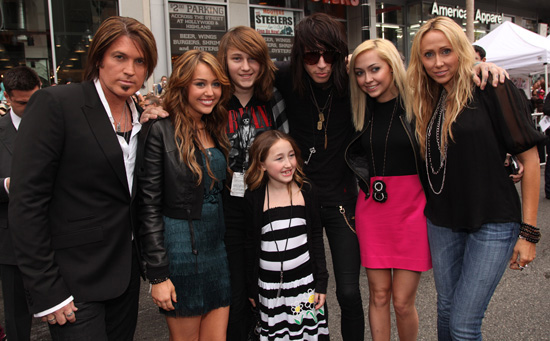 After basically throwing them under the bus, Billy Ray Cyrus is looking to make things better with his family.
Billy Ray put his own foot in his mouth in a recent interview with GQ Magazine where he said that he was "scared" for his 18-year-old daughter Miley Cyrus and that fame "destroyed [his] family." This pissed Miley off so bad that she forced her father to cancel an upcoming appearance on "The View" out of (understandable) concern that he would run his mouth all over gain.
But now, Billy Ray is trying to patch things up with his daughter and tells People that he is trying to "mend" his relationship with his family.
"It is very important to me to work on mending my family right now," Cyrus told People.com in an exclusive statement. Calling his recent comments "explosive, and unintentionally so," Cyrus says, "My family is the most important thing I have, and we are working together to make sure our future is stronger and healthier. It is all a learning process, and we thank everyone for their support and respect of our privacy as we sort through very important family issues," he says.
Is it just us or is the Cyrus family turning into a similar, though slightly different, version of the Lohans?
Thoughts?
Be the first to receive breaking news alerts and more stories like this by subscribing to our mailing list.