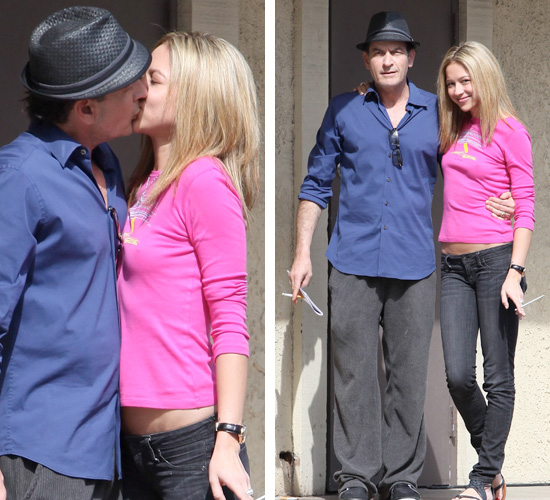 Charlie Sheen has went and got himself a new girlfriend!
The "Two and a Half Men" star brought a hot blonde back to work with him while shooting scenes for an unknown project at Hipster Kids in Westlake Village. Yesterday, Charlie was filmed on set for about four hours…but in between scenes couldn't keep his hands off his mystery lady.
Via x17 Online:
Our photographer says: "Charlie seemed rested and happy to be back at work. He posed for us with his girlfriend; he was kind of showing her off."

It's unclear whether today's shoot was for Two And a Half Men, Charlie's hit CBS show. It was a relatively small crew — approximately 15 – 20 people including hair and makeup. Sheen arrived around 10 am and worked for about four hours. He just left an hour ago, with his young, blonde companion in the car, en route to his home.
When asked what was her name….he responded sharply: "None of your f**kng business."
That damn Sheen loves to make a scene!
Your thoughts?
Be the first to receive breaking news alerts and more stories like this by subscribing to our mailing list.