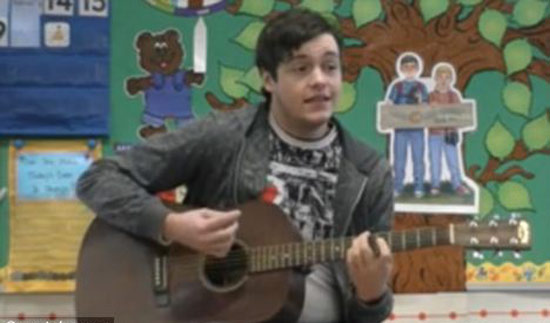 A singer is now facing 20 years in prison after posting a controversial video on YouTube involving children and sex……which was probably not the smartest idea. Peep the footage (and details) below….
21-year-old Michigan resident Evan Emory currently faces 20 years in prison for "manufacturing child sexual abusive material". His crime: He posted a YouTube video that made it appear he was singing an explicit song to a classroom of elementary students.

Emory tricked administrators at Beechnau Elementary School into letting him perform a song for the kids on video, claiming he wanted to build his portfolio. He sung an innocent song in front of the kids, but when the room was empty recorded a sexually explicit song. ("I like the way you make your body move. C'mon, girl…See how long it takes to make your panties mine…I'll add some foreplay in just to make it fun. I want to stick my index finger in your anus.")

Through trick editing, Emory made it appear that he had been singing the song to the kids while they smiled and laughed along. He included a disclaimer—"No children were exposed to the 'graphic content' of this video"—and posted it on YouTube earlier this week.

On Wednesday, Emory was arrested on charges of manufacturing "child sexual abusive material". Said the county prosecutor:

"The bottom line in this case is that he walked into a classroom and took advantage and victimized every single child in that classroom," Tague said. "This case is very disturbing to law enforcement officials. We have launched a full-fledged investigation with the sheriff."

At his arraignment, outraged parents of the kids in the video appeared at the courthouse to rally for jail time.

We can understand why the parents and school would be upset. But these are clearly laws designed to punish hardcore sex offenders—not some bro who came up with a misguided idea for a prank. In the end, the video appears to have been online for about a day or two and was probably seen by a few hundred people at most. This is a very broad definition of "victimization!" One law professor says the charges are likely unconstitutional.

As Radly Balko points out, the hysteria is fueled by the volatile combination of children + sex + The Internet. Add to that an overreaction by a humiliated school district. Here's hoping the judge realizes this, too.

Source: Gawker
Your thoughts?
Be the first to receive breaking news alerts and more stories like this by subscribing to our mailing list.