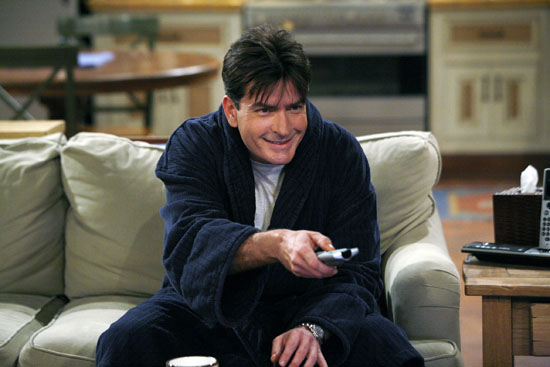 Charlie Sheen is ready to return to work now …. but his bosses won't let him!
The actor had a quick chat with "The Dan Patrick Show" Monday morning (Feb 14) and spoke on a variety of subjects, including the "forced" hiatus  n has placed on "Two and a Half Men," the recent attention placed on his alcohol and drug abuse problems, his "off and on" sobriety and more.
Candidly joking about his drug addiction, Sheen told the host of the show that he advises people to stay away from crack cocaine "unless you can manage it socially."
Via CNN:
Sheen, who has been undergoing substance abuse rehab treatments at home, said he is currently "peeing clean," and the producers of his hit sitcom should take advantage of it while they can. "I healed really quickly, but I also unravel really quickly, so get me right now guys," Sheen said. "Get me right now."

During the interview, the actor said "it's hard to say" how long he's been clean, saying he doesn't use the term "'sober' anymore, I'm not in AA, I don't believe in it."

CBS placed "Two and a Half Men" on "production hiatus" after the actor began rehab treatments in the wake of an emergency hospital visit last week. Sheen said in Monday's interview that he was surprised by what he called a "forced hiatus." "I went back to work and you know, I was banging on the door stage door like, 'Hello! Where's everybody?' I don't know what happened, I guess they're closed," he said.

Shooting is scheduled to resume at the end of February, Sheen's representative told CNN earlier this month. "I believe August of 2014 at this pace, I don't know," Sheen joked Monday. "It's supposed to be like the 28th or the 29th. That's what it is, it's the 29th of the nonleap year."

While Sheen doesn't like to use the term "sober," he said Monday, "It's off and on, you know." The triggers for his infamous partying "tends to do with boredom," he said. "It's never been about 'Everybody else is drinking, I should too,' " he said. "It's about what that makes things better, whether that's real or imagined."
Oh, Charlie. What on earth are we going to do with you? SMH…..
Your thoughts?
Be the first to receive breaking news alerts and more stories like this by subscribing to our mailing list.