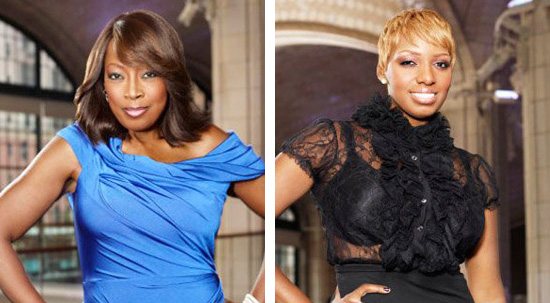 NeNe Leakes has Star Jones SHOOK! In fact, Star is so afraid of NeNe that she had to hire her own security detail to keep the controversial reality star away!!
NeNe, who along with Star and several others, appears on the upcoming season of "Celebrity Apprentice," and sources say that the "Real Housewives of Atlanta" TV star even made fellow "Apprentice" castmember LaToya Jackson cry and got loud with music legend Dionne Warwick, who also appears on the show.
Peep the details below:
"NeNe is coming unhinged," a source close to Star tells Pop Eater's Rob Shuter, adding that during taping the Atlanta 'Housewife' made LaToya Jackson cry and even got in the face of singing legend Dionne Warwick. But it's her beef with Star that is particularly nasty, my source reveals. "Clearly, she can't get along with women, especially other black women. She is losing it."

(If you're taking notes, the women in the cast include Hope Dworaczyk, La Toya, Star, NeNe, Marlee Matlin, Lisa Rinna, Niki Taylor and Dionne.)

For her part, NeNe isn't waiting for the show to begin to make known her hatred for Star. During a visit to 'The Wendy Williams Show,' she tried her best to hold her tongue with limited success. "I'm not feeling Star Jones, I'm sorry. I gave her a chance when I first got there, I did," she told Wendy, later adding, "I wouldn't spit on Star if she was on fire."

Of course, the feeling is mutual, but a friend of Star's tells me the former 'View' co-host will rise above the negative. That said, she feels that NeNe could be a physical threat to her, so she has hired her own private security guards. "Star is a real celebrity, not some cheap reality star who is enjoying 15 minute of fame," the friend says. "She's a lawyer and a lady. NeNe can say what she wants about Star, but she doesn't care now that she knows she's safe."

All this upcoming drama isn't lost on NBC or 'Apprentice' honcho Donald Trump, who couldn't be more excited. "This is the most dramatic season of 'The Apprentice' ever. It might just be the best TV catfight of all time," a show source tells me. "Donald Trump loved it. He's no fool. He knows that this sort of drama is TV gold."
This most definitely sounds like must-see TV…….We can't wait!! That NeNe Leakes is off the chain (LMAO!)
Your thoughts?
Be the first to receive breaking news alerts and more stories like this by subscribing to our mailing list.