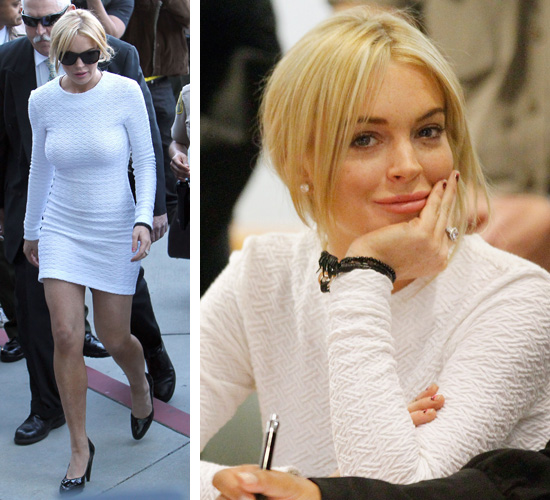 Lindsay Lohan was in court Wednesday (Feb 9) to answer to a felony theft charge after a jewelry store near her home in Venice, CA accused her of stealing a pricey gold necklace. When asked if she understood the charge brought against her (grand theft of personal property totaling $2,500), the actress timidly answered "Yes sir" before her attorney, Shawn Chapman Holley, pleaded "not guilty" on her behalf.
Superior Judge Keith Schwartz then imposed a $40,000 bail and told the actress in but so many words that if she screws up again, off to jail she goes with ZERO chance of bail!
"You are in a different situation now with a felony filed against you," Jude Schwartz said. "If you violate the law, I will remand you and set no bail. You need to follow the law just like everyone else. You are no different than anyone else, so please don't push your luck. I'm telling you — things will be different!"
After she expressed to the judge that she understood everything, the 24-year-old actress was taken into custody by sheriff's deputies until a bond was posted. Lohan is currently being investigated for an incident in which she allegedly pushed a worker at the Betty Ford Center late last year.
Lindsay's next court appearance is scheduled for February 23rd, and her attorney will have a conference with the prosecutor to possibly settle the case before it goes to trial.
Thoughts?
Be the first to receive breaking news alerts and more stories like this by subscribing to our mailing list.