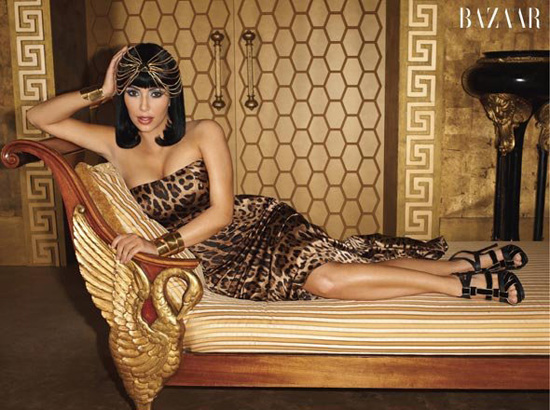 Kim Kardashian pays homage to her idol Elizabeth Taylor in the upcoming March 2011 issue of Harper's Bazaar Magazine. The celebrity socialite took on Taylor's 1963 portrayal of Cleopatra.
Inside the mag, Kim speaks on everything from how people constantly try to make her out to be a "slore" (slut + whore) to critical advice her father gave her before passing away from cancer in 2003.
Check out the pics from the spread below, and continue reading for the excerpts!
On Being a Slore:

"What if I want to go on a date with someone in New York, and then I come home to L.A. and I go on a date? I could have slept with none of them, but I would be known as being a 'slore': a slut and a whore."

On the advice her father gave her before he died:

"The last thing Dad ever said to me was. 'I know you're going to be okay. I'm not worried about you at all. But take care of your brothers and sisters."

On her sex tape with Ray J making her famous:

"I never made a business off of the tape. I made a business off my family and our TV show. Before the tape came out, we were in the works to do our TV show, but people don't know that."

On once being BFF's with Paris Hilton:

"As I always say, everyone comes into your life for a reason, a season, or a lifetime. And she was in my life for a long time. There comes a point in life where you just grow apart and you realize you're not as similar as you thought."
Thoughts?
Be the first to receive breaking news alerts and more stories like this by subscribing to our mailing list.