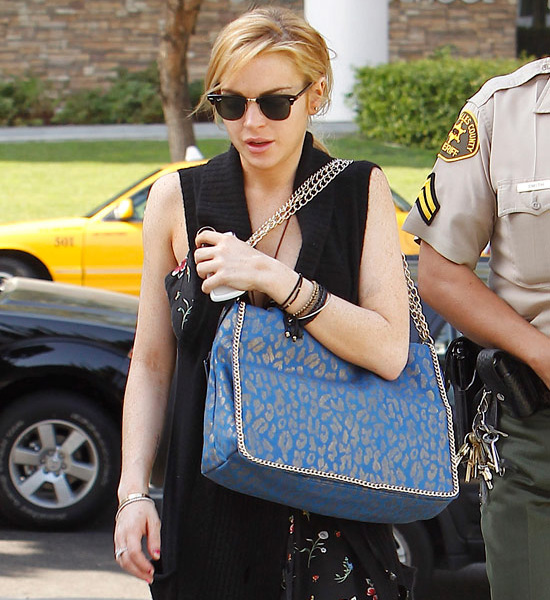 It's official, Lindsay Lohan might be going to jail FOR REAL! The actress was formally charged with felony grand theft by L.A. prosecutors today in connection with a necklace worth $2,500 she allegedly stole from a Venice, California jewelry store last moth.
The formal criminal complaint filed by the store states that they want a DNA and fingerprint sample with Lohan. And she'd better give it to them asap because the complaint says that "willful refusal to provide the samples and impressions is a crime."
Lindsay is accused of stealing a $2,500 necklace from a jewelry store in Venice, CA on January 22nd. Surveillance footage from the store shows the actress walking out of the building with the necklace, which was partially hidden by other jewelry on her neck. Once news broke that the store was pressing charges, her assistant quickly handed over the expensive piece of jewelry to the LAPD.
According to TMZ, prosecutors have recommended that Lindsay's bell be set at $20,000, and if she's convicted, she could face up to three years in prison. She will be arraigned later today in court.
Lindsay, who is currently on probation, is also facing a criminal investigation in Riverside County for allegedly attacking a worker at the Betty Ford Center where she was receiving treatment last year.
When is this girl NOT in trouble?!? Geez… off to jail you go, Lilo!
Be the first to receive breaking news alerts and more stories like this by subscribing to our mailing list.