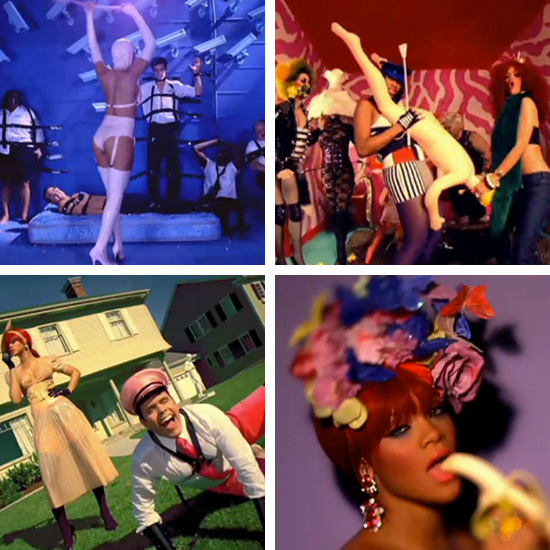 After watching Rihanna's brand new "S&M" music video only once, it's clearly visible how controversial it is. But apparently, it's so controversial that the steamy clip has been banned in 11 countries around the world so far!
And not only that, but the video has also been flagged on YouTube, which means that in order to watch it, users must confirm that they are at least 18 years old. So we guess singing about whips & chains, and walking bloggers around on dog leashes, sucking on bananas and simulating with blow-up dolls is no-no for YouTube's users under 18.
As for rumors that MTV was considering re-editing the clip, reps for the network say that the racy video was approved as is, and will not go under the "editing knife" after-all.
Meanwhile, the video's director has been accused of blatantly ripping off famous celebrity photographer David LaChapelle. A source within LaChapelle's studio contacted Radar Online and revealed striking similarities between LaChapelle's work and Rihanna's new "S&M" video.
"Interns told us that fans were buzzing about the video and wanting to know if David had directed it," the source told RadarOnline.com. "Then the phone in the office started ringing off the hook, everyone was like 'wow it's amazing – it's the exact same.'"

The source said that they were completely unaware up to that point that the video was so heavily styled around what appears to be LaChapelle's photography. In a side-by-side comparison between LaChapelle's previous work and screen captures of the Matsoukas directed music video, the similarities are indisputable – with nearly identical sets, scenarios, and styling.

The source claims that Matsoukas had photographs from past Italian Vogue shoots by LaChapelle, ranging from 1995-2002 laying around the set of the music video shoot. And the evidence does appear overwhelming. In one scene Rihanna is seen leading a man, who is crawling on his hands and knees, by a leash – a pretty much exact match to a previous LaChapelle Vogue photo.
Check out the pics below to see if you think the video is similar to some of David LaChapelle's past work! Rihanna's video is on the right, LaChapelle's photo shoots are on the left…

So…..what do you think? Blatant rip-off or is this just a case of someone grabbing a little friendly inspiration from a legend?
Your thoughts?
Be the first to receive breaking news alerts and more stories like this by subscribing to our mailing list.