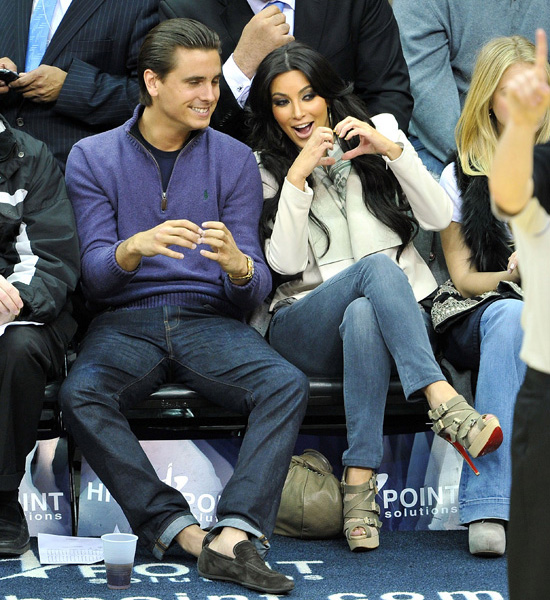 Kourtney Kardashian's boyfriend/baby daddy Scott Disick has the hots for Kim Kardashian. Or at least that's what In Touch Weekly is reporting in their latest cover story, which reads "Scott Confesses I'm In Love With Kim."
According to an insider, Scott is happily "crossing the line" with Kim and his "inappropriate, overly intimate antics seem to be getting worse." The insider also claims that Disick, who fathered a child (1-year-old Mason) with Kim's sister Kourtney, "makes sexual and suggestive comments to Kim," and he "rarely compliments or even pays attention to Kourtney," who is said to be "deeply hurt."
The unnamed source also went on to say that Disick "has made it obvious that he is in love" with Kim and his feelings for her became more intimate when she and Kourtney filmed their new E! reality show "Kourtney and Kim Take New York." And on top of that, the so-called "insider" says that Kim has "been leading Scott on for months" and even the girls' mom Kris Jenner "is furious" about the way Scott is treating Kourtney.
But it looks like Kim is laughing the ridiculous story off, saying in a tweet yesterday:
"OMG @ScottDisick I had no idea u felt this way! @KourtneyKardash we need to talk!"
Continuing with the joke, Scott replied:
"I had to confess, I couldn't take it anymore!"
Meanwhile, a source close to Disick told tabloid rumor busters Gossip Cop "He loves Kourtney so much" before calling the report "so silly."
A silly story indeed! Those tabloids will make up ANYTHING just to sell some issues, smh…
Thoughts?
Be the first to receive breaking news alerts and more stories like this by subscribing to our mailing list.