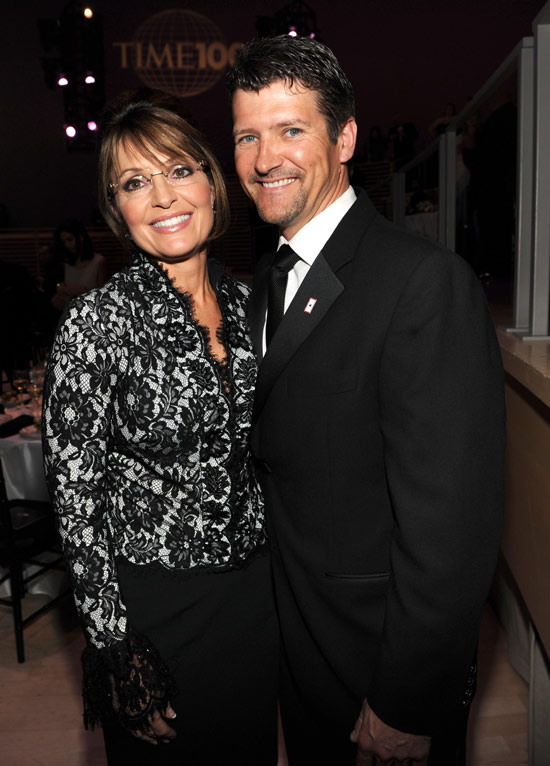 We guess f**ckery really runs in this family…….

The new word around town is….Sarah Palin's husband Todd has been having an affair with a massage therapist!
Read the full story below:
The National Enquirer is reporting that Sarah Palin's husband, Todd, is embroiled in a sex scandal involving an extramarital affair with a massage therapist who has been "busted for prostitution." The Enquirer claims it has unearthed official documents showing 36-year-old Shailey Tripp was arrested for maintaining a house of prostitution in March and that cops have confiscated physical evidence that could tie Todd to the alleged affair.

The tabloid did not disclose when the alleged rendezvous took place or what evidence was seized by police. The Palins, who have previously been dogged by cheating allegations in 2008 and 2009 and have vehemently denied each and every accusation, though they have not commented on the Enquirer story. In the same Jan. 31 issue in which the National Enquirer reports the Palin scoop, it also reports that Jennifer Aniston has a drinking problem and President Obama is stick-thin because he has stomach parasites.

Still, the tabloid broke the story of the biggest political scandal since Bill Clinton and Monica Lewinsky, when it reported ex-VP and presidential candidate John Edwards' affair with a campaign videographer.

The Palin story, writes the tabloid, began after several media outlets received an anonymous e-mail from thepalinmorals@hotmail.com claiming Tripp had an affair with Todd, which eventually led to Tripp's arrest in March 2010.

"According to the tenants in the building of her offices, they saw Todd come and go often and heard noises that sounded like someone was having sex," the e-mail read. A woman by the name Shailey Tripp is listed as a massage therapist in Wasilla, Alaska. Calls to the listed phone number were not returned.

The Enquirer claims its investigation revealed that Tripp, 36, was arrested on March 4 in Anchorage and charged with having a house of prostitution. Tripp pleaded no contest on June 13, 2010, according to the tabloid, and has a sentencing date set for June 15, 2011.
Believe it or not, we're not the least surprised by this!! SMH…
Your thoughts?
Be the first to receive breaking news alerts and more stories like this by subscribing to our mailing list.