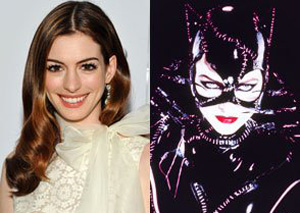 Catwoman is returning to the big screen, and Anne Hathaway is putting on the claws!!
Christopher Nolan announced in a statement Tuesday that Hathaway will join Tom Hardy and Christian Bale in his latest "Batman" film, "The Dark Knight Rises."
[ POP EATER ]
PLUS:
Miranda Kerr Posts Picture of Herself Breastfeeding on Blog [ CELEBUZZ ]
Fame As A Ferris Wheel: On Gucci Mane And Lil B [ THE SMOKING SECTION ]
TV Talk: Why Did Jennifer and Eric Williams Get Married? [ NECOLE BITCHIE ]
Terrence J Talks Being A 'Cougar Crusher': "I've always dated older women…" [ VIBE ]
NFL Player Laurence Marone Looks Like Pippi Longstocking in His Mug Shot [ TMZ ]
Halle Berry Declines Aretha Franklin's Request to Play Her in Biopic [ RHYMES WITH SNITCH ]
Did Lamar Odom Call Khloe Kardashian Fat? [ AMY GRINDHOUSE ]
VIDEO: Rapper Plies Gets Angry and Threatens to Shoot Up Club [ CRUNK & DISORDERLY ]
Personal Emails Between Fantasia & Antwaun Surface [ MISS JIA ]
Kim Kardashian Blames MTV for Teen Pregnancy Outbreak [ RADAR ONLINE ]
Be the first to receive breaking news alerts and more stories like this by subscribing to our mailing list.